Troubleshoot with Boot and Windows Error Recovery Menus
Troubleshoot with Boot and Windows Error Recovery Menus
As your PC boots up, you may encounter one of a multitude of start-up menus and options. Some are for troubleshooting purposes, and others may present options for starting the computer, selecting an operating system, or placing Windows into Safe mode. The boot menu allows you to change the boot startup device for one time only. The Windows Error Recovery menu provides options to troubleshoot issues with Windows on startup.
Change the boot up device using the boot menu
The first possible menu you can see for starting your PC is the boot menu, as it's an option available on many computers.
To view the boot menu, you press a special key when the computer starts. The key to press is described on the PC's start-up, or splash, screen. Often it's the F10 key, though it may be another key, such as the blue ThinkVantage button found on many Lenovo keyboards. Pressing that key displays a boot menu.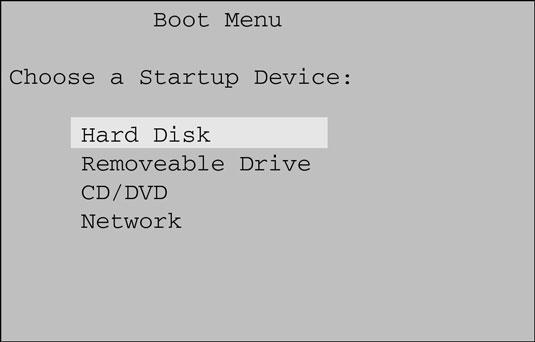 Use the menu to select a storage device containing the operating system you want to start. The PC then attempts to load an operating system from the chosen device.
Unlike setting the boot order in a PC, the boot menu is used to select a temporary start-up device; the option you choose from the boot menu doesn't become the primary way the computer starts from now on. This is why the boot menu is often called the Alternative Startup Device option on some PCs.
Troubleshoot Windows startup issues
One ugly start-up menu that you don't want to see is the Windows Error Recovery menu. It has two flavors: One menu shows up for start-up problems and the other for shutdown problems.

The first thing suggested by the Windows Error Recovery menu is to use the Windows Recovery Console.
Start by choosing the option Start Windows Normally. If you see the error message again, choose Last Known Good Configuration.
When the problem persists, try Safe mode to determine whether the problem exists in Windows itself or in another program or driver on the computer.