How to Use the Scanner and Camera Wizard in Windows XP
How to Use the Scanner and Camera Wizard in Windows XP
The Scanner and Camera Wizard in Windows XP allows you to scan in old photos or other documents to make them digital. Scanning is simple, and once you make files digital, you can e-mail them or share them with others in a variety of ways. Just place whatever you'd like to scan on your scanner's bed, and let the Scanner and Camera Wizard in Windows XP do the rest.
1

Choose Start→All Programs→Accessories→Scanner and Camera Wizard.

After you place a page, a picture, or some other object in your scanner, Windows begins scanning your item when you follow this path. If you have more than one device, you get a Select Device dialog box where you choose which one you want to use. Select one and then click OK. Then you see the opening window of the Scanner and Camera Wizard where you have to click Next. You now see the dialog box that I describe in the next step.
2

Choose your preferences for scanning and click Next.

On the second wizard screen that appears, you choose Color Picture, Grayscale Picture, Black and White Picture or Text, or Custom.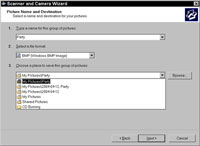 3

Designate information about the file and then click Next.

In the resulting Scanner and Camera Wizard, you designate a name for a group of pictures or select a group that you've already created (in the first drop-down list), a format for the file, such as .bmp or .jpg (in the second drop-down list), and a location to store the file (in the third drop-down list).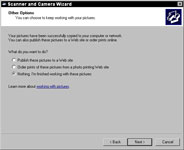 4

Choose one of three options to finish.

When the scanning is complete, you can publish these pictures to a Web site, order prints of these pictures from a photo printing Web site, or choose Nothing if you're finished working with these pictures. Note that if you choose Nothing, you get the final wizard window confirming you scanned one item and click Finish. After clicking Finish, you are taken to Windows Explorer, where the file you scanned is highlighted and ready to double-click and edit or view.