How to Turn Your Old Computer into a Backup Unit
How to Turn Your Old Computer into a Backup Unit
Still using your old computer occasionally? You can set up a network between your old and new computers, and back up your new computer onto your old computer's hard drive. Your old computer not only gives you a backup plan, but leaves you with a second computer for light computing tasks.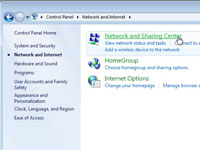 1

On your new Windows 7 PC, click the Start button, choose Control Panel (left), and choose Network and Internet (right).

The Network and Internet window appears.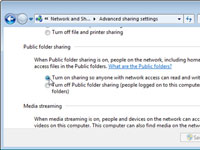 2

Click Network and Sharing Center (left), then click Change Advanced Sharing Settings from the left pane of the Network and Sharing Center window (right).

The Advanced Sharing Settings window appears.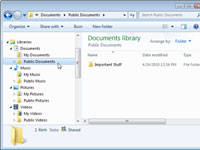 3

Make sure Public Folder Sharing is turned On, and place any files and folders that you want to share with your old computer into your new computer's Public folder.

The Public folder lives one click away in every Windows 7 folder.
4

After you transfer your files from your old computer to your new computer, free up as much space as possible on your old computer.

Delete your old files, purge any unneeded user accounts from your old computer, and empty your Recycle Bin.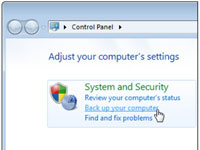 5

On your new computer, click the Start button, choose Control Panel, choose Backup Your Computer from the System and Security section, and then choose Create a System Image from the left pane.

The Create a System Imge dialog box opens.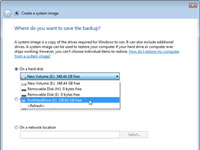 6

Click the On a Hard Disk drop-down menu, select your old computer, and click Next.

Your old computer's drive will appear differently than the portable hard drive in this figure.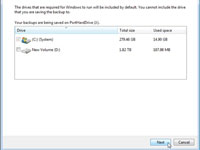 7

Click Next in the following window.

This step confirms that you're creating a system image of your (C:) (System) drive.
8

In the next window, click Start Backup to start copying the system image to the drive.

Depending on your drive's speed, the backup consumes roughly an hour for each 200GB of files, but you can continue working while backing up.
9

Check your backup to make sure it's successful.

Backups grow larger as you create more information with your new computer. Make sure your old computer has enough space to store it all.