How to Set Up Accounts in the Windows 10 Mail App
How to Set Up Accounts in the Windows 10 Mail App
You can set up the Windows 10 Mail app to manage Outlook and other accounts so you can receive all your email messages in one place. Just follow these simple steps.
1

Click the Start button on the taskbar, and then click the Mail tile on the Start menu.

The first time you start the Mail app, a Welcome screen appears. Click the Get Started button to see the Accounts screen. There, you can click Add Account to add another account or click Ready To Go to skip this step.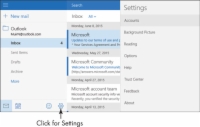 2

Click the Settings button and then click the Accounts link.

The Settings button looks like a sprocket.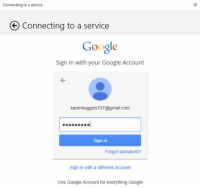 5

In the resulting window, enter the account email address and your password and click Sign In.

For some accounts, you may see an additional verification screen or be prompted to select account recovery information. Follow the prompts to continue.
6

In the next window, titled Connecting to a Service, scroll down and click the Allow button.

Mail takes a moment to set up the account, and then displays the All Done! window.
7

Click the Done button, and then click the account in the list of accounts on the left side of the Mail screen to open its inbox.

Now you can view your messages.