How to Restart Windows on Your PC
How to Restart Windows on Your PC
You need to reset or restart Windows in two instances: You restart whenever Windows tells you to restart (usually after you install something new or make some change), and you restart whenever Something Strange happens. For some reason, a restart clears the computer's head like a good nose blow, and things return to normal.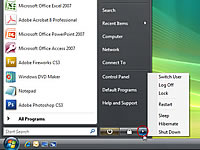 2

Click the triangle icon in the lower-right of the Start menu.

The Shutdown menu appears to the right of that icon.