How to Program Your PC to Hibernate
How to Program Your PC to Hibernate
You can save power and not-quite-exactly turn your PC by making it hibernate. When your computer hibernates, it saves all the memory — everything the system is doing — then turns the computer off. Hibernating means your computer is really and truly off, not just sleeping.
To hibernate your computer, you must program one of the power buttons: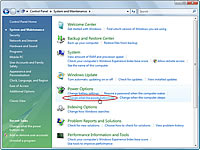 2

Select Change What the Power Buttons Do.

This item appears below the Power Options heading or as a link on the left side of the Power Options window.