How to Manage Add-Ons in Internet Explorer
How to Manage Add-Ons in Internet Explorer
Add-ons are designed to enhance your browsing experience, but sometimes they don't. In that case you need to know how to get rid of them or turn them on and off as you please. An add-on is a program attached to a browser. The add-on runs special features, like animation or video on a web page. Without the add-on, these items don't function.
You manage add-ons by clicking the Tools button in Internet Explorer 8. From the Tools button menu, choose Manage Add-Ons. You see the Manage Add-Ons dialog box. It displays which add-ons are loaded and whether they're enabled or disabled.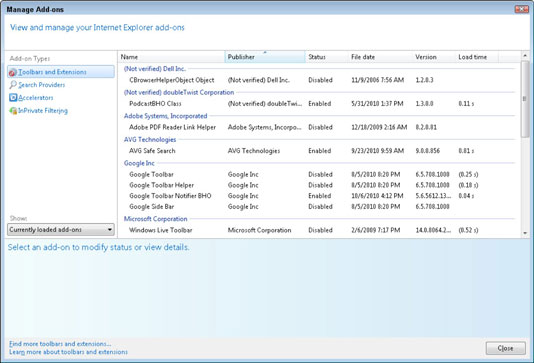 To disable an add-on that's bugging you or causing Internet Explorer to crash, select the add-on from the list in the Manage Add-Ons window and click the Disable button that appears in the lower-right corner of the dialog box. Likewise, to re-enable the add-on (in case it isn't the cause of your web page troubles), select it and click the Enable button that appears.
Click the Close button when you're done with the Manage Add-Ons window.
It is ok to install add-ons. Most of them add flavor to the web pages you visit and are required for that "enhanced web browsing experience." Besides, you now know how to remove add-ons and controls if they displease you.

You can temporarily disable all add-ons in Internet Explorer, which comes in handy for troubleshooting. To do so, from the Start menu choose All Programs→Accessories→System Tools→Internet Explorer (No Add-Ons).

In Internet Explorer 6, choose Tools→Manage Add-Ons to see the Manage Add-Ons window.