How to Disable the Infrared Port on Your Laptop
How to Disable the Infrared Port on Your Laptop
According to computer security experts, some mysterious software out there can tunnel into your laptop via the infrared (IR) port. To stop this from happening, you can disable your laptop's infrared port.
1

Open the Device Manager.

In Windows Vista, Choose Start→Control Panel, and then choose the Device Manager icon in the Control Panel window. In Windows XP, choose Start→Control Panel, choose the System icon in the Control Panel window, click the Hardware tab in the System Properties dialog box, and then click the Device Manager button.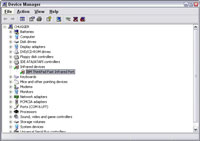 2

Click the Infrared Devices item (shown below) to open it.

You should see a listing for your particular infrared port. If no infrared item is listed in the Device Manager, your laptop most likely lacks an infrared port, so you're finished. Just close out of the Device Manager.
3

Double-click the Infrared Port item that appears beneath the Infrared Devices thingy.

The Properties dialog box for your infrared port appears.
4

In the bottom of the Properties dialog box, locate the Device Usage drop-down list and choose the Do Not Use This Device (Disable) option from the list.

If, later, you need to turn your infrared port back on, come back here and choose Use This Device (Enable).
5

Click OK to close the Properties window.

If you change your mind and want to keep the infrared port on, click Cancel instead.
6

Close the Device Manager.

You have just cut off a possible security threat.