How to Customize the Start Screen Background and Color
How to Customize the Start Screen Background and Color
The default Windows 8 Start screen background is nice enough, but is it really you? Because you spend so much time on the Start screen, you may want to personalize it with your own design. To change the Start screen background and color, just follow these steps:
2

Click the Change PC Settings link at the bottom of the pane.

Windows 8 displays the PC Settings Screen.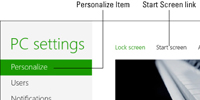 3

Click Personalize on the left.

You'll find a few items you can tweak here, but right now, you're only interested in one.
4

Click the Start Screen link at the top of the screen.

Windows 8 shows you a number of design thumbnail images and color combinations to choose from.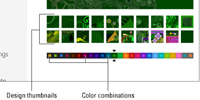 5

Click a design thumbnail to select it.

Feel free to browse! The preview shows how your current choice will look.
6

Click a color combination from the strip.

Go for bold, for understated, or for high-contrast. The choice is yours.
7

When everything is perfect, press the Windows key.

You return to your new and improved customized Start screen.