How to Create a Task to Send E-mail in Windows Task Scheduler
How to Create a Task to Send E-mail in Windows Task Scheduler
In Windows 7 and Windows Vista, you can use the Task Scheduler to automate the sending of an email. However, the email message you send is static: You cannot customize the message to relate any information that changes. You can add an attachment, which might be a file that's updated, such as a log file. But beyond that, the email action is limited.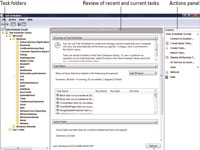 1

Open the Task Scheduler window.

Open Control Panel and choose System and Security (Windows 7) or System and Maintenance (Windows Vista). Then select Administrative Tools and, finally, Task Scheduler.
2

Choose the folder in which to create your new task.

If you haven't created a folder for your tasks, you would be wise to do so.
3

Choose Create Basic Task on the right side of the window.

The Create Basic Task Wizard appears.
4

Type a name for the task in the Name text box.

How about Email Test.
6

Click the Next button.

Your next step is to decide what event must take place to trigger the task.
7

Choose Weekly, followed by the Next button.

For time-driven triggers, you must specify the start time and interval. For event triggers, such as logging in to Windows, you can skip the time-driven steps.
8

Enter the starting date and time, plus any additional time settings.

Set the time 9:00:00 AM and the repeat to Every Monday, to have the event trigger every Monday at 9:00 AM.
9

Click the Next button.

You need to choose an action.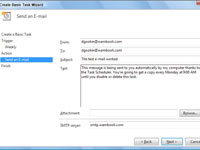 10

Choose Send an E-mail.

Fill in the email message as follows:

From: Your email address.

To: The recipient's email address, which can be your own email address or whoever you want to receive the message.

Subject: The message subject.

Text: The message text.

Attachment: Any files you want to attach. Use the Browse button to help you locate the file.

SMTP Server: The most important field. That's because the Task Scheduler doesn't use your PC's email program. Instead, it's the Task Scheduler itself that sends the message. As such, it requires the name of an email server to handle the request.
11

Click the Next button.

The final window presents a summary of everything you did.
12

Click the Finish button.

The task has been created.