How to Create a System Restore Point to Safeguard Your PC
How to Create a System Restore Point to Safeguard Your PC
The Windows 8 System Restore feature allows you to set restore points (think of them as snapshots of your important system files), which you can return to whenever Windows 8 experiences problems. Most folks turn to System Restore if the installation of new hardware or software causes instability in Windows 8. You can also use it when a system file is accidentally erased or altered.
Windows 8 automatically saves restore points regularly, but you can follow these steps to manually create a restore point as a safety net — for example, if you're about to install a new device. (You should create a restore point only if your PC is behaving itself and acting normally.)
1

Display the Charms bar, click the Search icon, click the Settings button, and then type

System Restore

into the Search box.

Letting Windows Search find the utility can save you some time.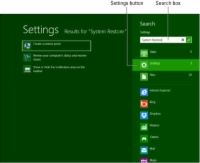 2

Click the Create a Restore Point button that appears in the Search results pane.

Windows opens to the System Protection tab of the System Properties dialog box.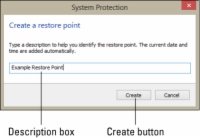 4

In the wizard window, type a name in the Description box — something like

Windows 8 before adding new video card

— and then click the Create button.

Windows 8 displays a confirmation message indicating that the restore point has been successfully saved.