How to Confirm that Your Laptop Uses the NTFS File System
How to Confirm that Your Laptop Uses the NTFS File System
The NTFS file format is more secure than older methods of formatting a hard drive. You should make sure that your laptop's hard drive is formatted using the NTFS formatting scheme. The how's and why's of a disk format are technical, but knowing whether your laptop uses the format is easy to confirm:
1

Open the Computer or My Computer window.

In Windows Vista, choose Start→Computer; in Windows XP, choose Start→My Computer.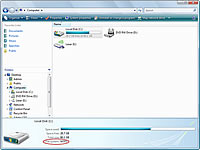 3

Locate the Details panel.

In Windows Vista, it's at the bottom of the Computer window. In Windows XP, look on the left to see the Details information. You may need to click the downward-pointing chevrons to display the Details information.
4

Check to see that it says File System: NTFS in the Details information.

You can also see some other useful information, like how large your hard drive is and how much space you have left on it.
5

Close the window.

If your hard drive isn't using NTFS (it's using FAT32, for example, or some other format), you can update your hard drive to the NTFS format. This is done by running the CONVERT utility at the command prompt. You should have your dealer or computer guru do this for you.