How to Upgrade a Computer Game Controller
How to Upgrade a Computer Game Controller
Many computer games perform just fine with the keyboard and mouse. But for advanced gaming, many people prefer dedicated game controllers. All modern game controllers insist upon a USB port.
1

Try out your friends' game controllers.

Because so much of the controller's appeal comes from its feel, take notice of what controllers your friends use when you're visiting. Some games work better with one kind of game controller over another, and not all controllers work with every game. Serious gamers acquire a serious collection of controllers (as shown in this figure).
2

Determine what features you're looking for in a computer game controller.

Joysticks hail from the older school of gaming and use a movable stick for controlling onscreen action. Game pads skip the joystick in favor of a flat surface with many buttons. Some controllers combine both: a joystick surrounded by buttons. Analog game controllers measure the direction the joystick moves on a scale of 0 to 255. Digital controllers, by contrast, work on an on/off basis.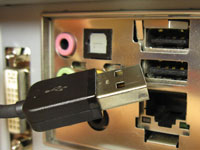 3

Find a vacant USB port on your computer, preferably in the front, and push the plug from the game controller into that port.

If you're currently using all your USB ports, buy a USB hub — a box that plugs into any USB port and dishes up several more ports.
4

Run the game controller's installation program, if necessary.

Insert the CD that came with your controller and follow the prompts that appear.
5

Click the Start button, choose Control Panel, and then type Game Controller in the Control Panel's Search box.

The Search box appears in the upper-right corner of the Control Panel.
6

Choose Setup USB Game Controllers to bring up the game controller's window.

For the best gaming experience, visit the gamer controller manufacturer's Web site to download the latest drivers.
7

Click the name of your game controller, and click the Properties button.

The Properties dialog box for the controller appears.