Explore Skype and Add Contacts on Your Windows 10 Laptop
Explore Skype and Add Contacts on Your Windows 10 Laptop
Skype is a great way to stay in touch with others The Skype app is available for your Windows 10 laptop and enables you to send IMs to friends and make voice and video calls. Skype is available as a free download.
1

To get started using Skype, click the Start button on the taskbar, and then click the Get Skype tile. In the window that appears click Download Skype.

The download shouldn't take long.
2

After the download and installation finishes, the Skype window remains open. You can sign in with your Microsoft account or Skype Name. If you see a Windows Security Alert dialog box, review the selected options, and then click Allow Access. (You may be prompted to enter an administrator password.)

Then, follow the prompts to set up your sound, video, and profile picture.

By default, the install process adds a desktop shortcut that you can use to open Skye at a later time. You can also use the Cortana search box on the taskbar to search for and open Skype.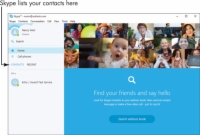 3

After finishing connecting to the service, Skype then prompts you to search for contacts. (You need to add your friends and family as contacts in order to message and call them. They have to be set up as Skype users, too.) You can click the Search Address Book button to add contacts.

Existing contacts appear in the Contacts list at the left. A green dot beside a contact's means that person is currently available for conversations and calls.
4

To add a contact later, click on Search below your user name, type a contact's Skype Name or email address, and then click the Search Skype button. In the list that appears, click the Add a Contact button.

You will see a window appear.
5

In the next window, click the Add to Contacts button.

You should see a message field.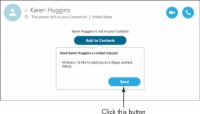 6

Edit the brief message in the message field that opens and click Send. Once your contact receives your message and accepts the invitation, the question mark on the contact's photo or icon in your Contacts list changes to a green check mark.

The green check mark also indicates when a contact is online, so the two of you can message and call on Skype.

Click Recent on the left side of Skype to display your contact request. When the contact accepts, you'll also see a message that the contact has shared his or her contact details with you.