Create a Task to Display a Pop-Up Message in Windows Task Scheduler
Create a Task to Display a Pop-Up Message in Windows Task Scheduler
In Windows 7 and Windows Vista, you can use the Create Task method in Windows Task Scheduler to create a task to display a pop-up message. Here are the steps to create a pop-up message task: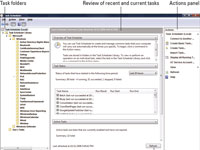 1

Open the Task Scheduler window.

Open Control Panel and choose System and Security (Windows 7) or System and Maintenance (Windows Vista). Then select Administrative Tools and, finally, Task Scheduler.
2

Choose a folder for the new task.

If you haven't created a personal task folder yet, you would be wise to do so.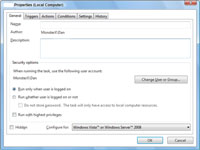 3

Choose Create Task.

The Create Task dialog box appears. It looks similar to the task's Properties dialog box.

You start on the General tab.
4

Type a name for the task in the Name box.

For this example, type Reminder in the Name box.
5

Type a description in the Description box.

For this example, type A message that pops up and reminds you of things way too often.
6

Click the Triggers tab, followed by the New button.

How about having the message pop up every hour on the hour?
7

Choose Daily and edit the start time so that the hour value ends in 00:00.

For example, if the current time is 10:39:19, edit it to read 10:00:00.
8

Place a check mark by the option Repeat Task Every.

Then choose 1 Hour and then 1 Day for the duration. Click OK.
9

Click the Actions tab, followed by the New button.

The Action button menu displays.
10

From the Action button menu, choose Display a Message.

The window changes to reflect the new choice.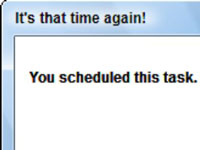 11

Fill in the message title.

The message title appears atop the window, such as "It's that time again!". For this example, type Gentle reminder.
12

Write the message.

The message itself appears in the dialog box. For this example, type the text You've been gently reminded.

The dialog box sports only an OK button.
13

Click OK.

You're pretty much done at this point. The Conditions tab provides supplemental options for refining when the task does or doesn't run. Likewise, the Settings tab provides you with more options.
14

Click OK to create the task.

The completed task appears in the list of tasks at the top of the window.

To test-run your task, select the task choose Run from the Actions side of the Task Scheduler window. The pop-up window appears, but it may show up behind the Task Scheduler window; click the Gentle Reminder button on the taskbar to see your results.

See Video 631 to see a walk-through of how to create a pop-up message task.