Fortnite Battle Pass
The Fortnite Battle Pass Battle Royale progression system was introduced at the start of Season 2 in December 2017. It rewards players with various cosmetic items that are only available to acquire in that specific season, but you're then allowed to keep for future seasons.
Although there is a free version of the Battle Pass known as the Free Pass, most of the best items are only available through the premium, paid version. Here, you take a look at the Battle Pass in more detail, including level progression and challenges.
Placing Value on the Battle Pass
A Battle Pass can be purchased at any point during a season, as shown. As of this writing, a Battle Pass costs 950 V-Bucks per season, which works out to $9.50. If you're in a hurry to progress, you can also purchase a Battle Bundle, which is a Battle Pass plus an automatic 25 tiers of progression, for 4,700 V-Bucks, or $47.00. Of course, you'll need to purchase a bundle of V-Bucks first and then the Battle Pass, so you're likely to have some V-Bucks left over. You can use the extra V-Bucks to purchase cosmetic items.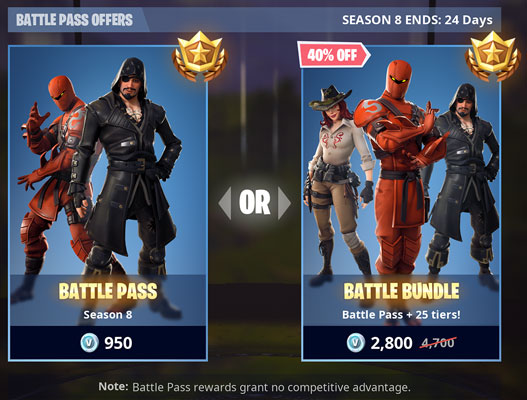 Epic Games has introduced a way to win a free Battle Pass. Through completion of a specified number of overtime challenges towards the end of a season, they give away several prizes, including XP, battle stars, wraps, and loading screens. Starting with Season 7, if you completed 13 overtime challenges, the big prize was a free Battle Pass for the next season, 8. Keep an eye out for similar offers in future seasons!
The Battle Pass provides a range of cosmetic items that are available to acquire only for that season, as well as a percentage multiplier to help you quickly get to the next in-game level. Through regular play and completing weekly challenges, you can earn additional cosmetic items in the Battle Pass that have no effect on your in-game level. Instead, you earn Battle Stars to progress through the level tiers in the Battle Pass.
There is no pay to win in Fortnite. All Battle Rewards are strictly cosmetic and do not affect gameplay.
You start at tier 1 and can go all the way up to tier 100. For every 10 Battle Stars you earn, you go up one level. As with the purchase of the Battle Bundle and its included 25 tiers, you can purchase the next tier should you so choose for 150 V-Bucks, or $1.50.
As you progress through select tiers, you can also earn free V-Bucks, 100 at a time. Although you'll likely want to use your V-Bucks for additional cosmetic items, you can also save these V-Bucks to purchase future seasons.
Your account information and V-Bucks are the only things shared between the free game and Save the World. Although the Save the World mode presently costs real money, not V-Bucks, if you happen to also purchase that part of the game, you can also earn V-Bucks there. In fact, there's a lot more potential to earn free V-Bucks in Save the World than there is in the Free Pass in Battle Royale.
The key takeaway with the Battle Pass is that the more you play, the more you'll earn and unlock. Unlockables include outfits, gliders, harvesting tools, pets, backpacks, emotes, sprays, toys, wraps, contrails, music, loading screens, and more. The value of all of the individual cosmetic items you receive far exceeds the cost of the Battle Pass itself.
Each Battle Pass expires at the end of the season it was acquired. After a season is over, you keep all in-game cosmetic rewards earned, but XP boosts end, and you will no longer be able to earn more rewards or complete weekly challenges from that season.
If you don't have a lot of time to put into the game during a particular season, then you can enjoy the game just fine without investing in anything more than the Free Pass. If you're able to play on a semi-regular basis, however, and can afford the price, then the Battle Pass is a great way to enhance your experience with some fun items that will never be available again, as well as unique goals to reach for.
The Fortnite Battle Pass progression system
Player progression is measured by two different values: Season level, which is raised through acquiring Season XP, and Battle Pass tier, which increases by accumulating Battle Stars. Season level represents your time playing during the current season and has the following properties:
Season XP: Affects Season level. Gained by quality play, including survival time, enemies eliminated, and match placement. Can be awarded directly by completing Battle Pass challenges and by acquiring Battle Pass tiers. Season XP can be boosted by Battle Pass reward personal XP boosts.
Friend XP: Boosts the accumulation of Season XP for those you play with, and vice-versa. Only one can be active at a time.
Combo XP: Boosts both personal XP and friend XP.
Boosts: All boosts are cumulative.
To collect enough Battle Stars to earn all Battle Pass rewards without buying tiers, you need to level up and complete daily and weekly challenges. As such, if you want to earn all Battle Pass rewards, you'll want to buy as early in the season as possible to give yourself enough time.
A Battle Pass tier has the following properties:
Tiers: Increased through acquisition of Battle Stars. Earning 10 Battle Stars increases the Battle Pass tier by 1, to a maximum level of 100. Tiers can be purchased for 150 V-Bucks each, up to the maximum level of 100.
Battle Stars: Awarded for completing specific challenges.
Challenges: Completing daily challenges award five Battle Stars. Completing weekly Battle Pass challenges award five Battle Stars. Completing hard weekly Battle Pass challenges award ten Battle Stars. Some challenges feature multiple stages that award 1–4 Battle Stars per stage.
Leveling Up: Leveling up a Season level, such as going to level 3, awards two Battle Stars. Leveling up a Season level every multiple of five, such as going to level 25 awards five Battle Stars. Leveling up a Season level every multiple of ten, such as going to level 40, awards ten Battle Stars.
Purchasing the Battle Pass after unlocking higher tiers will grant all earned Battle Pass rewards.
You can see your Season progress by selecting the Battle Pass tab from the lobby, as shown. Let's take a look at the Battle Pass tab: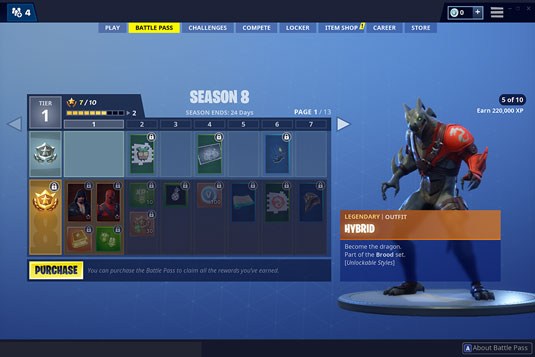 Tier: Indicates your current tier, from 1 to 100. The corresponding column shows what you've unlocked. The example shows that Tier 1 has no unlockable in the Free Pass and four unlockables in the Battle Pass. However, because the Battle Pass was not purchased in the example, those remain unavailable.
Battle Stars: The first number shows how many Battle Stars have been earned towards the second number goal. It takes ten stars to make it to the next tier of unlockables.
Free Pass: This row of unlockables is available to every player, even if they did not purchase a Battle Pass. Because this is free, there are far fewer unlockables than with the paid Battle Pass. Unlockables include cosmetic items and free V-Bucks.
Battle Pass: This row of unlockables is only available to Battle Pass purchasers. Each of the 100 tiers features at least one item to unlock. Unlockables include cosmetic items, free V-Bucks, XP to put towards future seasons, and more.
Unlockable Description: By selecting an unlockable's icon in either the Free Pass or Battle Pass row, this area shows a larger image and relevant description so you know exactly what you earned or hope to earn.
Purchase: If you want to try for the best unlockables, this is how you purchase a Battle Pass. If you don't have enough V-Bucks to complete your order, you'll be taken to V-Bucks purchase options.
As you reach new tiers, you'll be notified and can unlock the item or items for those tiers. The following figure shows an example of purchasing a Battle Bundle to go straight to tier 26 in Season 8.

When notified, you can view each of the items and their description, or simply click Collect All and Close to acquire everything available without first reviewing it. The following figure shows a Battle Pass tab with progress up to tier 26, unlocking everything up to that point in both the Free Pass and Battle Pass rows.

Daily, Weekly, and Special Challenges
There are four main challenge types: daily, weekly, event, and style. Each challenge type works the same, but features different properties. You can see the current line-up of challenges by selecting the Challenges tab, shown here.

Clicking on any of the challenge boxes shows what actions are required for completion, as in the following figure.

Daily challenges, shown in the following figure, assign a new series of challenges each day. Completing the daily challenge rewards you with XP and Battle Stars. You can have up to three daily challenges active at one time. To get new daily challenges, you need to first complete your active challenges.

Weekly challenges are sets of unique challenges that unlock ten weeks during a season. Completing these challenges rewards you with large amounts of Battle Stars that are designed to help you unlock higher tiers. Anyone can complete some of the challenges in each week's set, but you need to own the Battle Pass to complete all of the challenges.

Event challenges are special challenges that grant loading screen rewards, emotes, or other items, for completing special weekly challenges. For each set of event challenges completed, you receive a new loading screen or other reward.

Style challenges are special cumulative challenges that grant different outfits or styles for your characters. For each set of style challenges completed, you receive a new outfit or style for the character specified.

Using Party Assist
Within the Challenges tab, you can turn on Party Assist for a single daily challenge or weekly challenge that may be too hard to pull off by yourself. During a match, when Party Assist is active, your party members can help you complete that challenge.
To use Party Assist, you need to be a member of a party before joining a match. That means you need to team up with from one to three of your friends or family rather than just using the Fill option.
When you're a member of a party, you can then go into the daily or weekly challenge you want help on and select the Party Assist button, as shown.

Party Assist can only be used on one daily or weekly challenge at a time and only before the match starts. If the challenge is met by you or one of the other party members, then everyone in the party will receive credit. Encouraging positive teamwork like this is yet another example of Fortnite being a game that's more than just straight up conflict.