How to Share Documents and Photos on Your Google+ Hangout
How to Share Documents and Photos on Your Google+ Hangout
You can turn your Google+ Hangouts into full-fledged social marketing experiences by sharing documents and photos with everyone in attendance. For example, host a Hangout for your social media marketing team members and show them graphs of a demographic breakdown as you discuss content strategies on Google+.
Follow these instructions to share a document:
1

Click the Google Docs button, which appears on the menu bar at the top.

A Google Docs screen appears. The screen lists all the documents you have in Google Docs.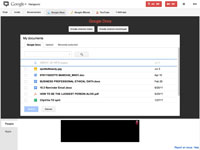 2

Either select one or more documents from your list of Google Docs files or upload a new document from your computer.

If you just want to share a document that's already showing on the Google Docs tab, select its check box and move on to the Step 3.

To upload a new document for sharing, click the Upload tab. This tab allows you to search your computer for your document if you haven't already loaded it into Google Docs.

The Recently Selected tab just allows you to access a document that you have recently shared.
3

After you've selected your document, click the Select button and then click the Upload button on the following screen.

Your file, whether it's an image, Microsoft Word document, or PowerPoint presentation, for example, shows on your screen. However, the people in your Hangout won't automatically see your shared document, and you won't automatically see their shared documents, either.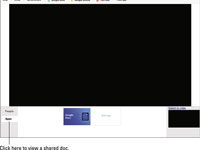 4

Click the Apps tab in the bottom-left corner of the screen.

This will allow you to view a shared document.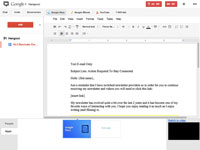 5

Click the Google Docs icon.

The shared documents are listed in the left pane, and the currently selected document appears to the right.

This feature is awesome for collaboration because it enables the host to edit a document onscreen, depending on the item you have shared. For example, you're able to edit a Word document and an Excel spreadsheet.