How to Share Circles on Your Google+ Marketing Page
How to Share Circles on Your Google+ Marketing Page
Many social media marketers find it useful to share their Circles on Google+. That is, they're taking a Circle filled with names and inviting their communities to use that Circle as well. The people who are in the Circles appreciate being recommended as someone who is worthy of a follow, and those on the receiving end appreciate learning about interesting people and brands.
Here's how to share your Circles:
1

Click the Circles icon on the right side of your page.

You may have to click the More link at the bottom of the page in order to see the icon.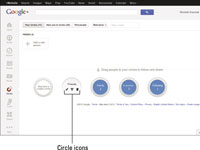 2

Click the Circle you want so share.

The Circle turns gray and presents three icons: Edit Circle (the pencil), Share Circle (the dot with two arrows), or Delete Circle (the trash can).
3

Click the Share Circle icon.

In the box that appears, you can add a comment about why you want to share the Circle as well as decide whom you're going to share it with. The Public option, as opposed to your individual Circles, is the default setting.
4

If you want to share the Circle with additional people or Circles, click the Add More People drop-down menu in the center of the screen to get the options.

You can choose to share the Circle with your other Circles, or you can click the Browse People icon on the right side of the Share box to select individuals to share with.

If you select a Circle or people to share the Circle with and then change your mind before clicking the Share button, simply click the X next to the name of the people or group to remove them from the share list.