How to Create Circles on Your Google+ Marketing Page
How to Create Circles on Your Google+ Marketing Page
Circles enable you to target who you share your content with on Google+. As a social marketer, you have the ability to share it with the public, or you can target certain niches. For example, you can create circles for certain demographics, such as age groups, gender, and interests.
If you're releasing a new product and it's geared toward Baby Boomers, you can create a "For Boomers Only" Circle so only those interested receive the content for the products. Because the Google+ community doesn't always release such info as age, many brands ask who would like to be put in a particular circle.
To get started, first create a Circle: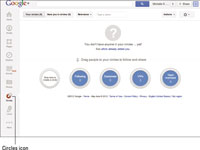 1

In your sidebar menu, click the Circles icon.

Notice that Google has already populated your profile with some default Circles. Although Google+ suggests names for Circles, most Google+ users create their Circle names.
2

Hover your mouse pointer on the words Drop Here to Create a Circle.

When the Create Circle link appears, click the link.

The box that appears allows you to give your new Circle a name and decide who to add.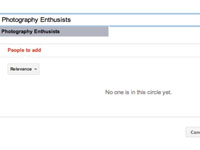 3

Click inside the box at the top of the window that says Circle Name and type in an appropriate title.

To create content specifically for different community, professions, demographics, or interest groups, give your Circle a name that makes it clear what this group is about. The more descriptive you are with your Circles, the less likely you are to share the wrong content with the wrong people.
4

When your notifications let you know someone added your brand to their Circles, click the "Add" button next to that person's name.

You'll see a Circles drop-down menu. Add the new person to the appropriate Circle.
5

Repeat Steps 2–4 as needed until you have a variety of Circles set up.

Some people choose to create many Circles right off the bat and then add people to them as they go along, whereas others create Circles as the need for new ones arises. There is no right or wrong way to do it. Circles are something you'll tweak as you go along.

You may find you'll want to prune your Circles because the wrong people are added to the wrong groups, and you may find some Circles aren't relevant anymore. In this case you want to take the people in those Circles and add them to a more aptly titled Circle, or existing Circles, so you can still market to them.