How to Add a Picture to Your Google+ Marketing Page
How to Add a Picture to Your Google+ Marketing Page
Your profile picture is the image people see when they land on your Google+ social media page. The picture can be your brand logo if you're creating a brand account.
Here's how to set up your profile photo: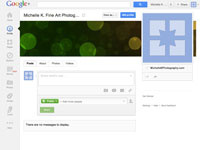 1

In your sidebar (the left menu), click the Profile icon to access your profile's details.

On the page that appears, you can change your profile picture; post text updates, videos, and photos; or add more information to your profile, such as a motto (tagline) and a short introduction about you or your business.
2

Click the Change Profile Photo link beneath the large box on the right side of the page.

The Select Profile Photo window opens.
3

Click the Select a Photo from Your Computer button.

You can also use the links on the left side of the photo box to select a photo you've already uploaded to your personal Google profile or a photo of you that someone else has taken. You can even take an entirely new picture by using your web camera.

The image you choose must be at least 250 x 250 pixels large and be JPG, GIF, or PNG format.

After your photo uploads, you can edit the image by clicking the Creative Kit that appears. From here you can crop, rotate, sharpen, resize, or add color to your photo. Decorating options that add doodles or cartoon bubbles are available, too, but these aren't recommended because they can make your image look unprofessional. Additionally, you can add a caption by clicking the Add Caption link.