Prepare the Final Draft of Your Business Plan
Prepare the Final Draft of Your Business Plan
When you have a working business plan draft in front of you, look at the document as a whole to make sure that all the pieces fit together. For example, your company overview should reflect your mission statement, your assessment of the business environment should be in sync with your business strategy, and your company strategy should support goals and objectives.
If your plan is a team effort, devote extra effort to a review of the overall document. Sometimes the right hand doesn't know exactly what the left hand is doing, even when you have a solid outline for everyone to work from. The best way to catch inconsistencies or omissions is to have all the members of your planning team read your draft plan in its entirety.
After the draft makes its way to a more polished version, enlist the help of people who haven't been involved along the way. Outside readers will see the document with fresh eyes and are more likely to catch discrepancies or places where the language isn't crystal clear.
As you enlist help for this review, invite people who aren't afraid to tell it like it is — even if that means giving you a thumbs down on parts of your plan. Be clear that the plan is a working draft and that you welcome any and all comments, positive or negative.
But ask your critics to provide constructive help, as well. If something isn't working in the plan, ask them to tell you why and to suggest ways to fix the problem.
To help with the review process, use the Working Draft Checklist. The checklist covers key questions that you and other reviewers should ask when reviewing your written business plan.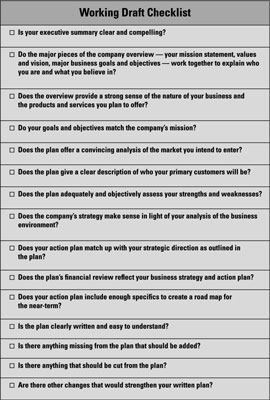 Don't panic if your reviewers come back with all sorts of suggestions or constructive criticism. This just means that they're doing their jobs and helping you identify problems and fix them now — before your plan hits the desk of a banker, investor, or business partner. A little criticism won't hurt; it will make your business plan much more effective.
Before you finalize your written plan, put together a timetable for when you'll begin the process of reviewing and revising your plan. Our suggestion is to re-evaluate your plan once a year. If your business hits a rough patch, however, or if it's growing very fast, you may need to revisit your plan more often.
In that case, remember that you don't have to undertake the entire process. You can focus in on the relevant sections of the plan — marketing, for example — and leave the rest in place.