Business-Plan Check List
Putting together your written business plan is a bit like building a house: Before actual construction begins, you need to be prepared with accurate blueprints and the right equipment and supplies. With a business plan, you also want to make sure that you're well prepared and that you have all the resources you need at your fingertips.
As you organize your effort, use this checklist. It lists all the items you may want to include in each of the major components of your business plan. Check off the items that you already have in hand, at least in a rough form. (Don't worry about the table of contents and the executive summary at this point. You put these two pieces in place last.)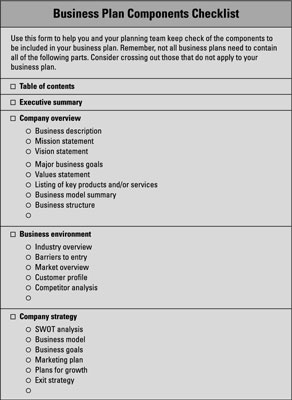 Not every business plan will contain every item on this list. Still, take a good look at the items you haven't checked. Make sure that the omission is intentional and that you're not leaving out important information.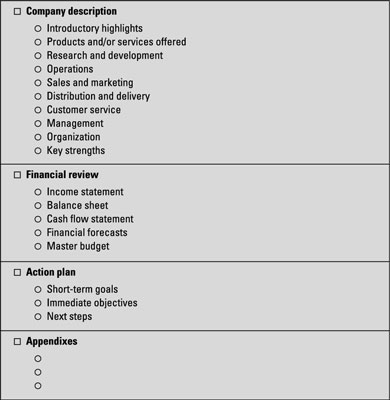 If you still have some homework to do before sitting down to write your plan, here are the main topics and where to turn for help:
Company overview

Business environment

Company strategy

Company description

Marketing plan

Financial review

Action plan