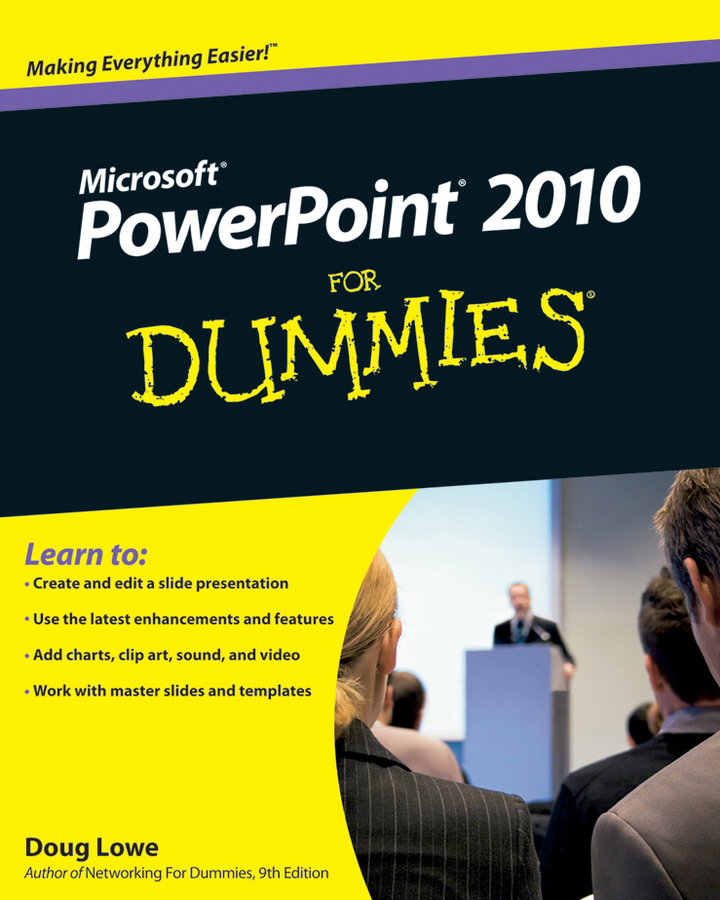 PowerPoint 2010 For Dummies
By: Doug Lowe Published: 05-10-2010
Start creating dynamite presentations with PowerPoint 2010
PowerPoint, the number one presentation software, has been revised and improved with the introduction of Microsoft Office 2010. More than 120 million people are using PowerPoint to create business and educational presentations worldwide.
Both new and veteran PowerPoint users will improve their skills with the fun and friendly advice in PowerPoint 2010 For Dummies. Bestselling author Doug Lowe makes it easy to grasp the new features and shows you how to create presentations with pizzazz.
PowerPoint is used in more than 60 countries to create visual presentations for business and educational settings
The newest revision to PowerPoint adds new features, an online version of the software, and improved audiovisual and video editing capabilities
This easy-to-follow guide explains how to create and edit slides, import data from other applications, and add charts, clip art, sound, and video
Also covers working with hyperlinks, creating Web pages with PowerPoint, video editing, and collaboration via online access
PowerPoint 2010 For Dummies helps you take full advantage of the enhancements in the new version, so you can create more effective and impressive presentations.
Articles From

PowerPoint 2010 For Dummies
PowerPoint
PowerPoint 2010 For Dummies Cheat Sheet
Cheat Sheet / Updated 03-27-2016
PowerPoint 2010 is the most powerful presentation software available to create and edit slide show presentations for work, home, or school. With PowerPoint, you can create and edit presentations on your computer and then output the presentations to your computer's monitor or a projector and print slide handouts and speaker notes. You can even deliver the presentation over the Internet to anyone who has a computer and an Internet connection.
View Cheat Sheet
PowerPoint
PowerPoint 2010 Ribbon Commands
Article / Updated 03-26-2016
Are you lost in the Ribbon? If you've recently upgraded from PowerPoint 2003, using the PowerPoint 2010 Ribbon to perform common PowerPoint operations may be challenging at first. To make your transition easier, here are the PowerPoint 2010 equivalent commands for common PowerPoint 2003 menu commands. Word 2003 Command Equivalent PowerPoint 2010 Command File→New File→New File→Save File→Save File→Package for CD File→Save & Send→Package Presentation for CD File→Page Setup Design tab, Page Setup group Edit→Undo Quick Access toolbar, Undo View→Master→Slide Master View tab, Presentation Views group, Slide Master Insert→Slide Home tab, Slides group, New Slide Insert→Picture→Clip Art Insert tab, Images group, Clip Art Insert→Picture→From File Insert tab, Images group, Picture Format→Font Home tab, Font group Format→Paragraph Home tab, Paragraph group Slide Show→Slide Transition Transitions tab, Transition to This Slide group File→New File→New File→Save File→Save File→Package for CD File→Publish→Package for CD File→Page Setup Design tab, Page Setup group Edit→Undo Quick Access toolbar, Undo View→Master→Slide Master View tab, Presentation Views group, Slide Master Insert→Slide Home tab, Slides group, Add Slide
View Article
PowerPoint
PowerPoint 2010 Keyboard Shortcuts
Article / Updated 03-26-2016
PowerPoint 2010 offers a number of helpful keyboard shortcuts for performing tasks quickly. Here are some shortcuts for common PowerPoint formatting, editing, and file and document tasks. Additionally, after you've created your masterpiece, you can use a number of shortcuts when running your slideshow. PowerPoint 2010 Formatting Shortcuts Command Shortcut Ribbon Location Bold Ctrl+B Home tab, Font group Italic Ctrl+I Home tab, Font group Underline Ctrl+U Home tab, Font group Center Ctrl+E Home tab, Paragraph group Left Align Ctrl+L Home tab, Paragraph group Right Align Ctrl+R Home tab, Paragraph group Justify Ctrl+J Home tab, Paragraph group Normal Ctrl+spacebar Home tab, Paragraph group PowerPoint 2010 Editing Shortcuts Command Shortcut Ribbon Location Undo Ctrl+Z Quick Access toolbar Cut Ctrl+X Home tab, Clipboard group Copy Ctrl+C Home tab, Clipboard group Paste Ctrl+V Home tab, Clipboard group Select All Ctrl+A Home tab, Editing group Find Ctrl+F Home tab, Editing group Replace Ctrl+H Home tab, Editing group PowerPoint 2010 File and Document Shortcuts Command Keys Ribbon Location New Ctrl+N File tab, New command Open Ctrl+O File tab, Open command Save Ctrl+S File tab, Save command Print Ctrl+P File tab, Print command Help F1 Help button at top right of Ribbon New Slide Ctrl+M Home tab, New Slide command PowerPoint 2010 Slide Show Shortcuts To Do This . . . Use This . . . Start a slide show F5 Advance to the next slide N Perform the next animation Enter, Page Down, right arrow, down arrow, or spacebar Go back to the previous slide P Repeat the previous animation Page Up, left arrow, up arrow, or Backspace Go to a specific slide Type the slide number and then press Enter Display a black screen B Display a white screen W End a slide show Esc Go to the next hidden slide H Display a pen cursor Ctrl+P Display an arrow cursor Ctrl+A Hide the cursor Ctrl+H
View Article