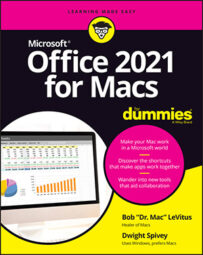 Office 2021 for Macs For Dummies
By: Bob LeVitus and Dwight Spivey Published: 04-25-2022
This handy guide will show you how to master the essentials of all the key apps that make Office 2021 such a productivity booster. Among many, this includes Word, Excel, and PowerPoint. You'll also discover brand-new features, like an improved dark mode, better accessibility capabilities, how to share documents directly in a collaborative setting, and much more.
Articles From

Office 2021 for Macs For Dummies
General (Microsoft)
Office 2021 For Macs For Dummies Cheat Sheet
Cheat Sheet / Updated 03-17-2022
Microsoft Office apps are chock full of options and features that are just too tough to squeeze into the pages of a single book. This cheat sheet includes a handful of helpful tips and tricks to give your Office experience a boost, including learning how to create automatic replies to senders, check your documents for accessibility issues, embed fonts in your Word documents and PowerPoint presentations for better portability when sharing, and even check the current weather when perusing your Outlook Calendar.
View Cheat Sheet