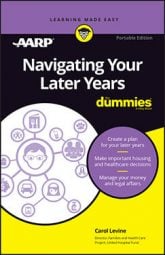 Navigating Your Later Years For Dummies, Portable Edition
By: Carol Levine Published: 01-25-2021
As we get older, a host of complicated decisions awaits us, and many of us tend to put them off. Now, there's a handy guide to help you organize your thoughts and determine what's best for you. The book covers just about every issue you could face in the future, including whether to stay in your current home, health insurance options, and the creation of wills, trusts, advance directives, and more.
Articles From

Navigating Your Later Years For Dummies, Portable Edition
Sorry, there are no articles to show here.