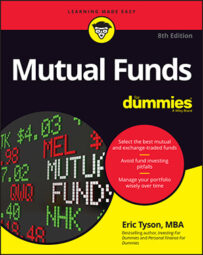 Mutual Funds For Dummies, 8th Edition
By: Eric Tyson Published: 05-16-2022
With straightforward advice and specific, up-to-date mutual fund recommendations, personal finance expert Eric Tyson helps you avoid fund-investing pitfalls and maximize your chances of success. This newly revised and updated edition offers expanded coverage of exchange-traded funds (ETFs) and a discussion of online investment managers, including "roboadvisors."
Articles From

Mutual Funds For Dummies, 8th Edition
Funds
Mutual Funds For Dummies Cheat Sheet
Cheat Sheet / Updated 02-24-2022
When I invest my own money, I've long used the best mutual funds. To make the most of your money when investing in funds, you should be sure that you have your overall finances in order. You should also understand what works and doesn't work and what will maximize your chances for success and minimize your chances of problems in funds. The following will guide you well in your journey.
View Cheat Sheet