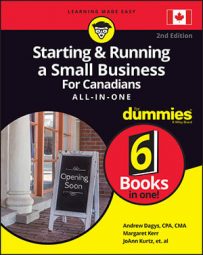 Starting and Running a Small Business For Canadians For Dummies All-in-One, 2nd Edition
By: Andrew Dagys and Margaret Kerr Published: 01-13-2020
Now, everything you need to know for your small business success — all in one place. For Dummies has combined its six books on running a small business for Canadians into one invaluable volume. Quickly and easily learn how to develop a business plan, conduct market research, handle the financials, manage human resources, and grow your business wisely.
Articles From

Starting and Running a Small Business For Canadians For Dummies All-in-One, 2nd Edition
Sorry, there are no articles to show here.