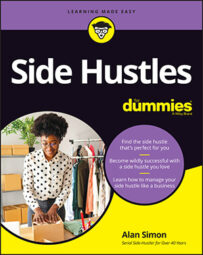 Side Hustles For Dummies
By: Alan R. Simon Published: 04-25-2022
Whether you're thinking about driving for Uber, developing apps, or starting an online boutique, Side Hustles For Dummies walks you through every step of the way of starting your own side gig. You'll learn about how to structure your new business and keep records, create backup plans, steer clear of scams, find out whether you need investment capital, and much more.
Articles From

Side Hustles For Dummies
Start-Ups
Side Hustles For Dummies Cheat Sheet
Cheat Sheet / Updated 03-15-2022
A side hustle is usually a sort of business that you're running in addition to whatever you do for your full-time job or career. Or, you can pull together two or more side hustles and, taken all together, that's how you earn a living. If you're not sure whether a side hustle is right for you, getting clear on the reasons you may want to start one is a good place to start. You may also find it helpful to think about different categories of side hustles, in order to find the one that's best for you. Finally, if you're trying to juggle a full-time job with a side hustle, you need to know how to keep all those balls in the air. This Cheat Sheet has you covered on all of these fronts.
View Cheat Sheet