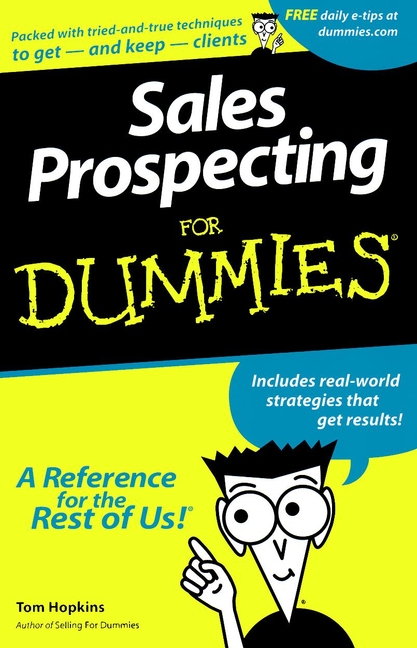 Sales Prospecting For Dummies
By: Tom Hopkins Published: 04-30-1998
Prospecting – finding and qualifying prospective clients – is the first step in the selling proposition. It can also be the most daunting. The first big hurdle is knowing where to look for opportunities and recognizing them when they present themselves. Then there's the fear of rejection that makes it so hard to approach strangers and talk to them persuasively about the product or service you represent. The good salesperson recognizes these challenges and finds ways to cope with them. The great salesperson, according to sales legend Tom Hopkins, turns them to her advantage and uses them to supercharge her selling and sell, sell, sell.
Whether you're a newcomer to sales or a seasoned pro, Sales Prospecting For Dummies is your survival guide for generating new leads. Tom Hopkins helps you gain a solid perspective on what prospecting is and shares simple, yet powerful ways to build a prosperous selling career by meeting and getting to know the right people. You'll find out how t o:
Build an appealing image
Polish your phone skills
Tap business contacts for leads
Prospect your customer list
Use the power of the Internet
Get the biggest bang for your advertising buck
Here's a gold mine of tried-and-true techniques and strategies for finding and keeping clients from America's number one sales trainer. You'll discover how to set your goals, plan your time, and multiply your leads by:
Obtaining valuable free information from newspapers, magazines and specialized journals, radio and television, the Internet, and more
Developing a network of friends and associates; and mining it for all it's worth
Speaking so others will listen and maximizing every meeting with every person
Techniques for getting satisfied customers to become an endless source of new referrals
Building your image to the point where prospects seek you out
Handling failure and rejection, keeping a positive attitude, and staying motivated
A concise, yet comprehensive guide to getting and maintaining a salesperson's most vital lifeline – new prospects – Sales Prospecting For Dummies is an indispensable tool of the trade for rookies and veteran salespeople alike.
Articles From

Sales Prospecting For Dummies
Sorry, there are no articles to show here.