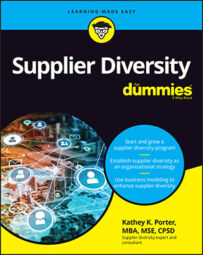 Supplier Diversity For Dummies
By: Kathey Porter Published: 05-23-2022
Supplier Diversity For Dummies shows you how to extend the principles of diversity and inclusion to your company's suppliers. You'll understand the relevance of supplier diversity and why it's important and beneficial to encourage equal opportunity for businesses owned and managed by underrepresented groups.
Articles From

Supplier Diversity For Dummies
Operations
Supplier Diversity For Dummies Cheat Sheet
Cheat Sheet / Updated 04-11-2022
Although the term supplier diversity has been around for half a century, aspects of it still mystify organizations and rout the best intentions. Being expected to know everything can be daunting. This Cheat Sheet provides a quick reference to help you understand some key supplier diversity considerations.
View Cheat Sheet