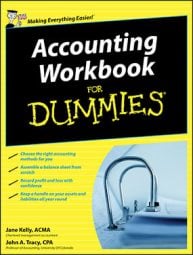 Accounting Workbook For Dummies, UK Edition
By: Jane Kelly and John A. Tracy Published: 11-27-2009
Want to become an accountant? Own a small business but need help balancing your books? Worried about managing your finances under the cloud of the recession? This hands-on workbook gets you up to speed with the basics of business accounting, including reading financial reports, establishing budgets, controlling cash flow, and making wise financial decisions.
Articles From

Accounting Workbook For Dummies, UK Edition
Sorry, there are no articles to show here.