The metaverse is ultimately a three-dimensional medium of communication or a channel. Within this channel, there are many elements. The most defining one is an artificially created 3D environment. Providers have created various 3D environments that are referred to as metaverse platforms.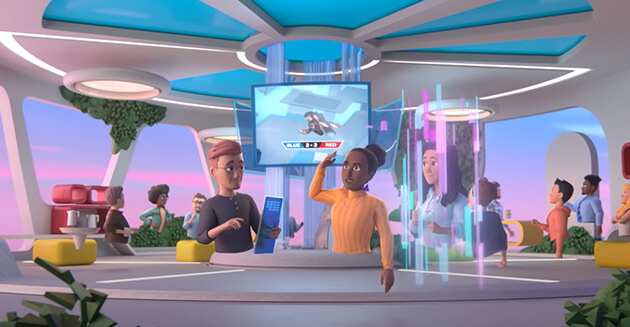 ©Horizon Worlds
Gaming on the Horizon Worlds metaverse platform
These platforms offer different levels of interactivity and experience. Some offer the ability to meet other users on the platform and engage in a game, while others offer the ability to collaborate on 3D design and industrial applications. The metaverse is just evolving and is at a very initial stage. There is a lot to look forward to!
Following, is a roundup of eight established metaverse platforms (there are many more than this) and two that are in development. This roundup offers summaries only. For more information about these platforms, including how to create accounts on them, and the various features they offer, check out my book Metaverse For Dummies.
Horizon Worlds
Horizon Worlds (shown above) is a metaverse world created by Meta (formerly the Facebook company). It features entertainment, gaming, live shows, and celebrity appearances. As a product of Meta, Horizon Worlds naturally appeals to a wide range of users.

As of late 2022, a collection of interesting experiences is available on Horizon Worlds:
Social network: Horizon Worlds serves as a social network where you can meet with friends, play games, work out as a group, or engage in activities such as creating a new world.
Gaming: You can play games, get into group gaming with others, and enter competitions. You can also compete, win rewards, and gain social status within the specific gaming environment by earning points.
Fitness: Horizon Worlds offers fitness classes, games, and other fitness apps that users can engage with, using the platform as a fitness companion.
Entertainment: Entertainment includes live concerts with celebrity performers, singers, and events worldwide. You can get access to front-row seats and watch your performers live.
Ultimately, you'll be able to use Horizon Worlds for entertainment or work. Meta is expanding the Horizon Worlds platform to offer workplace collaboration tools. This includes the ability to create virtual rooms in your workplace and meet with your colleagues and teammates in a virtual environment.

Most experiences on Meta require the Meta Quest 2 headset. The headset connects to Horizon Worlds through your Meta account.
NVIDIA Omniverse
NVIDIA is known for producing some of the best-regarded high-power graphics hardware. Furthering this work in the metaverse, NVIDIA has launched a new VR-based collaboration platform called the Omniverse.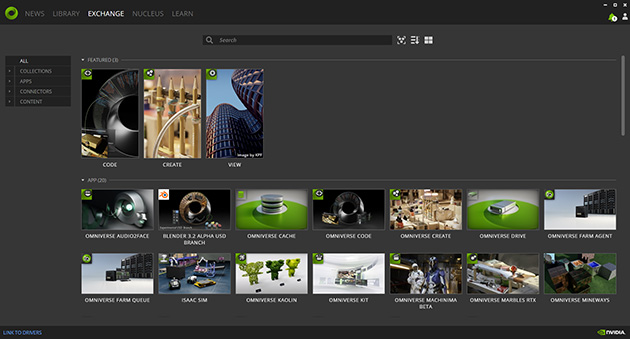 ©NVIDIA
The NVIDIA Omniverse
The Omniverse platform is best suited for designers of 3D and virtual objects, because it consists (or will consist) of a platform where activities mostly involve designing rather than entertainment. The Omniverse is an industrial metaverse, but it may host games in the future.
This platform is a good fit for people who want to explore industrial design and other related items. NVIDIA has also announced that it's working on plans for creating the largest industrial metaverse through its industry partnerships with companies such as Siemens and Pixar.
The NVIDIA Omniverse will also help in game development to create ultra-realistic 3D models instead of becoming a gaming platform itself, at least according to announcements made thus far.
Decentraland
Decentraland is one of the first metaverse platforms. It was launched in February 2020 and is owned by the Decentraland Foundation, a nonprofit. Most experiences on the platform include visiting areas within the platform, also referred to as properties or lands, owned by other users and experiencing what they've built.

Genesis Plaza is the first place where users land when they log in (see below).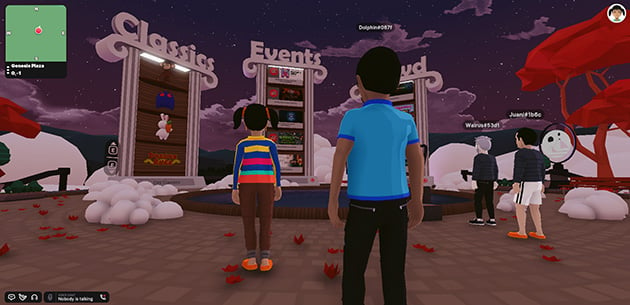 ©Decentraland
Decentraland's Genesis Plaza
As of this writing, Decentraland has 90,601 parcels of land that are privately owned by users. Each land parcel is also essentially a non-fungible token, or NFT. This means that each land parcel has a unique address, can't be forged, can't be duplicated on the platform, and has permanent rights allocated on a blockchain database.
To be able to buy and sell land on Decentraland, you need to have a MetaMask wallet account and have MANA to spend. MANA is Decentraland's proprietary cryptocurrency.
The Sandbox
The Sandbox is a popular metaverse platform where users can play different types of games and buy land as an NFT. Sandbox is an Ethereum-based metaverse platform. This means that the proprietary token of Sandbox, MANA, is based on Ethereum protocols for authentication and exchange. It follows certain rules, and any data regarding its purchase or sale is stored on the Ethereum blockchain.

Users who own the land can develop it by creating games within their lands. Similar to Decentraland, The Sandbox provides options for gamification. It has more of a video game feel to it than Decentraland does.

The image below shows a high-level map of the Sandbox platform, including virtual properties currently purchased and land available for sale.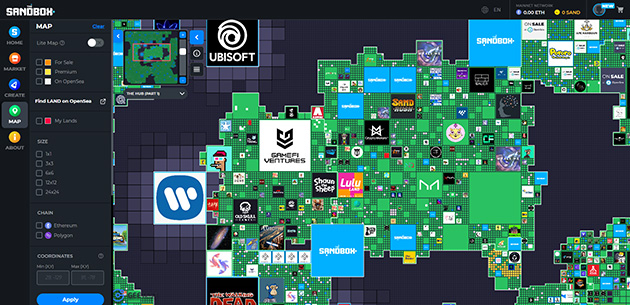 ©Sandbox
A map of properties created on the Sandbox platform
Voxels
Voxels is a Ethereum-based metaverse platform. Voxels consists of virtual land, roads, architecture, and other elements from the real world.

Experiences on Voxels are primarily based around buying a piece of virtual land on the platform and developing it — creating games, organizing a concert, or even embedding audio or video on your land to make it into an entertainment venue.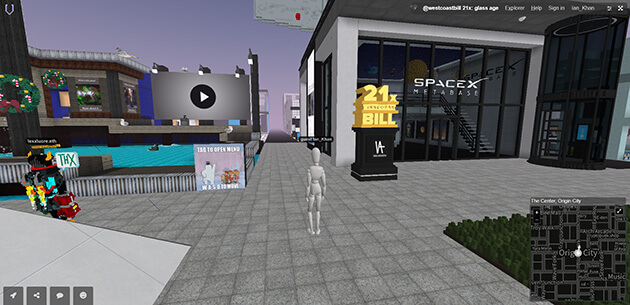 ©Voxels
A view of Voxels metaverse platform
Voxels is focusing more on the NFT side of the metaverse, meaning users are able to buy and sell NFTs. The platform has the look and feel of a gaming environment that looks like a city with roads and buildings organized into various districts.
Somnium Space
Somnium Space, shown below, promises a game world where the company itself has no ownership of any asset within the game. Somnium Space is based on Ethereum and Solana blockchain tokens and is focusing on player-led land parcels and in-game items.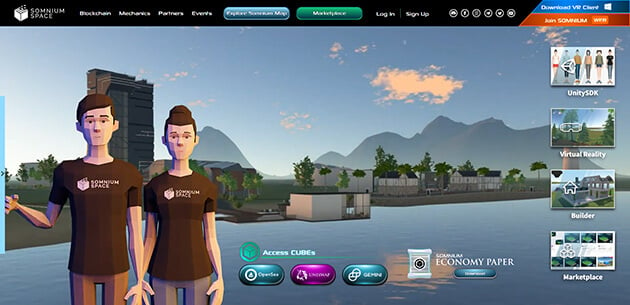 ©Somnium
The Somnium Space metaverse platform opening page
On Somnium Space, users will have the security of ownership of all assets and the ability to trade assets through decentralized marketplaces. Users will also have access to tools, such as a software development kit (SDK) and a Somnium Space builder app that can help create your own virtual world within.
With an authenticity of origin, the experiences are focused on creating a world with its own economy and currency. Users can build, trade, and play on a PC or through a dedicated VR device. Somnium Space promises a cross-browser game available on all major headsets. This means the platform will be available on all web browsers and will work with all VR headsets.
Roblox
Roblox is one of the first metaverse games. It features a world where game players can create their own buildings, roads, and structures. The image below shows a view from inside the platform.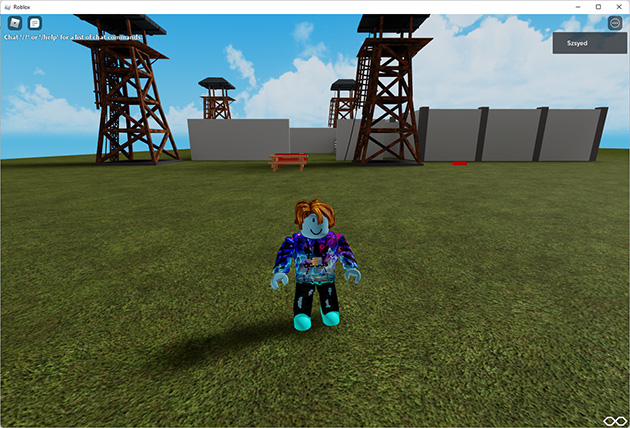 ©Roblox
A view of the Roblox platform
Roblox allows users to create avatars with a variety of physical features and accessories. Users, particularly younger people, enjoy customizing their avatars. Fashion brands are also showing high interest in Roblox, because they can sell their digital avatar clothes and accessories.
Co-play and co-creation are two key parts of the overall Roblox design. Users are encouraged to play with other users. For this reason, the game has come under criticism for not being suitable for players younger than 12.
More than 40 million people play Roblox every day. This metaverse game has quickly scaled and is one of the most popular games available. As a popular platform, Roblox is one of the more heavily advertised spaces in the metaverse. It could be a good place for you to think about advertising your goods or services if the demographic matches your buyers.
Bloktopia
Bloktopia features a 21-story building with various levels that form the entire Bloktopia metaverse. The platform is also a decentralized open-source virtual world which means. It offers a platform based on blockchain technology. The 21 levels of the skyscraper were specifically created to pay homage to the 21 million Bitcoins that can ever be generated.

Bloktopia token holders are called Bloktopians. Here are some of the things Bloktopians can do on the platform:
Buy Bloktopia land parcels
Offer advertising space to generate revenue
Play games
Build personal networks
Meet people
Bloktopia wants to position itself as a central hub to learn everything about crypto and eliminate the confusion and deep learning curve associated with cryptocurrencies. As such, it features an open and friendly environment where people can meet and learn.
Coming soon
Epic Games
Epic Games is one of the largest gaming industry technology infrastructure providers in the world today, and it's considering developing its own platform for the metaverse. In 2022, Epic Games signed a deal with WPP (the world's largest advertising agency) and formed a partnership with LEGO to construct a kid-friendly metaverse.

The Epic Unreal 3D virtual scene generating technology, also known as the EPIC Unreal Engine, is a highly popular gaming industry graphics engine that allows game designers, creators, and developers to develop highly realistic 3D objects, people, surfaces, textures, lighting, and audio within a virtual environment.

Epic technology has gained recognition when it comes to the quality of the Unreal Engine output. The Epic Unreal Engine is also used in filmmaking to create ultra-realistic artificial film scenes. Epic's goal is to be able to create experiences that are indistinguishable from real life and the results so far are stunning. Check out some of the virtual 3D samples at www.unrealengine.com.

With technology such as the Unreal Engine, a big revolution in high-quality graphics in the metaverse could be around the corner.
Sony
Sony has emerged as a very successful gaming industry conglomerate. Sony owns the PlayStation line of products, which has sold more than 100 million units worldwide since its release in 1994.

Sony PlayStation features hundreds of popular games and best sellers, including God of War: Ragnarok, Grand Theft Auto, and others. The Sony PlayStation Network (PSN) has more than 100 million active users today, making it one of the top gaming hardware consoles ever produced.

Sony is believed to be working on a metaverse platform for live sports broadcasts, where users can view athletes competing or playing various sports in a metaverse space.

It doesn't have a platform entirely focused on the metaverse, but the company is expected to become part of various metaverse platforms through PlayStation Network and potentially look at the metaverse as a long-term strategy, according to announcements made by its leadership.

The metaverse is brand new. It's just in the very early stage of evolution,. Today the metaverse is mainly confined to a VR headset or a computer screen. But future focus and iterations can and are likely to develop as a result of the convergence of hardware and graphics technologies.
About This Article
This article is from the book:
This article can be found in the category: