Google Drawings is the free drawing tool built into Google Drive. It's like a very basic version of Microsoft Visio. With it, you can create drawings like organizational charts or basic diagrams in which you need to include text, rudimentary shapes, icons, and images.

However, if you need more advanced functionality, such as creating specialized drawings mechanical drawings, or building plans, you'll need to invest in an advanced drawing program.

Because Google Drawings is a web-based application, you don't have to purchase and install the software on your computer. You can use it on multiple computers, so for example, if you start an organizational chart at work in Google Drawings, you can finish it up later on your home computer because the application and the document are stored on Google Drive. No files to transfer.
Start new or open existing Google Drawings
In a new browser window on your computer, log in to your Google Drive account and follow these steps:
To start a new document, click the red New button in the upper left.

Choose More, and then Google Drawings. A new browser window or tab appears displaying a blank Google drawing (see Figure 1).

To open an existing Google drawing, navigate to the drawing you wish to open on your Google Drive and double-click. The drawing appears in a new browser window or tab.

Figure 1: A blank Google drawing
You don't have to manually save your drawing. Google Drive automatically saves it for you.

At this time, Google Drawings is available to use only with your web browser. Google hasn't made a mobile app for it yet. However, you can view Google drawings on your smartphone or tablet with the Google Drive app. Here's how:
Log in to your Google Drive account on your device.

Navigate to the drawing you want to view and tap it. The drawing displays on your screen.
You can't really do a whole lot with the Google drawing on your mobile device. You can print, share, and download the file to your device, but that's about it. To do one of those things, open the drawing and tap the Information icon (white circle with the "i" in it); you'll see various options for printing, sharing, and downloading the drawing.
Create a basic drawing
When you open Google Drawings, you're presented with a blank canvas. You can use the various tools to create your drawing:
Line tools: You can draw lines, connectors, curved lines, or freeform lines. Click the down arrow next to the Line icon to choose the type of line you want, then click on the canvas and drag your cursor to draw.

Shape tools: You can use any number of shapes, arrows, callouts, or math symbols in your drawing. Click the down arrow next to the Shapes icon to choose the type of shape you want, then click on the canvas and drag your cursor to draw. You can also type text into your shape by clicking on it.

Text box: If you want just text with nothing around it, then click the Text box icon, drag your cursor where you want to place the text. In the outline of the text box, you can type your text.

Image tool: You can place an image in your drawing by clicking the Image button and choosing an image from your hard drive, your Google Drive, or from an external URL.
You can choose other options as well, such as including tables and comments. In no time, you can complete your basic drawing (see Figure 2 as an example) and share it with others.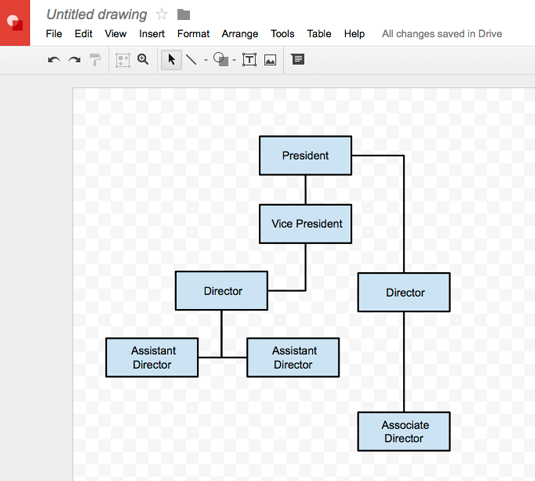 Figure 2: An example Google drawing
About This Article
This article can be found in the category: