A cookie is a small file that a Web site automatically saves on your Mac's hard drive. It contains information, such as your preferences or your date of birth, that the site will use on your future visits. In Mac OS X Snow Leopard, Safari lets you choose whether to accept all cookies — the default — or to disable cookies altogether. You can also set Safari to accept cookies only from the sites you choose to visit. To change your Cookie Acceptance Plan, follow these steps:
Choose Safari→Preferences.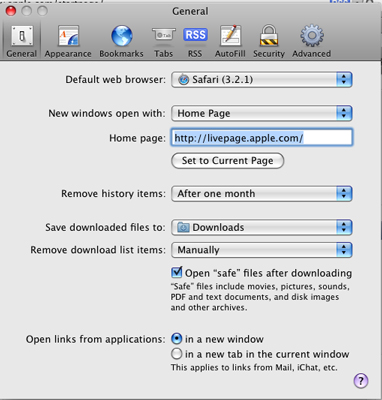 The Preferences dialog box opens.
Click the Security toolbar button.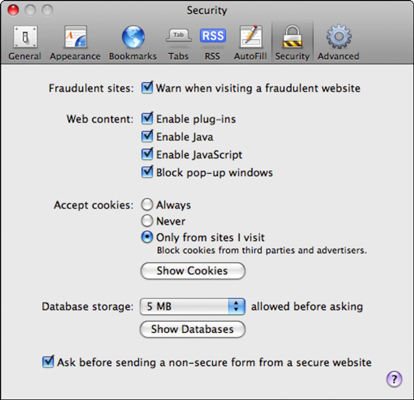 Safari displays the preference settings.
Choose a radio button to show how Safari should deal with cookies
Your choices are (1) Never blocks cookies entirely, (2) Always accepts all cookies, and (3) Only from Sites You Navigate To, which allows sites like Amazon.com to work correctly without allowing a barrage of illicit cookies.
(Optional) To view the cookies currently on your system, click the Show Cookies button.
If a site's cookies are blocked, you might have to take care of things manually, such as by providing a password on the site that used to be read automatically from the cookie.
Click the Close button to save your changes.
Your cookie settings are updated.
About This Article
This article can be found in the category: