Virtualization is ideal for big data because it separates resources and services from the underlying physical delivery environment, enabling you to create many virtual systems within a single physical system. One of the primary reasons that companies have implemented virtualization is to improve the performance and efficiency of processing of a diverse mix of workloads.
Rather than assigning a dedicated set of physical resources to each set of tasks, a pooled set of virtual resources can be quickly allocated as needed across all workloads. Reliance on the pool of virtual resources allows companies to improve latency. This increase in service delivery speed and efficiency is a function of the distributed nature of virtualized environments and helps to improve overall time-to-value.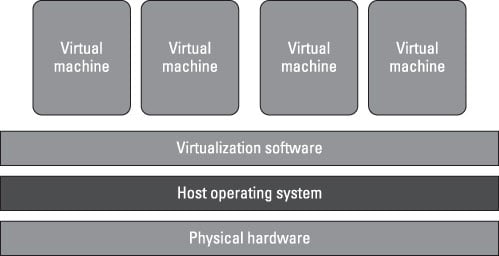 Using a distributed set of physical resources, such as servers, in a more flexible and efficient way delivers significant benefits in terms of cost savings and improvements in productivity. The practice has several benefits, including the following:
Virtualization of physical resources (such as servers, storage, and networks) enables substantial improvement in the utilization of these resources.

Virtualization enables improved control over the usage and performance of your IT resources.

Virtualization can provide a level of automation and standardization to optimize your computing environment.

Virtualization provides a foundation for cloud computing.
Although being able to virtualize resources adds a huge amount of efficiency, it doesn't come without a cost. Virtual resources have to be managed so that they are secure. An image can become a technique for an intruder to get direct access to critical systems. In addition, if companies do not have a process for deleting unused images, systems will no longer behave efficiently.
About This Article
This article is from the book:
This article can be found in the category: