iTunes comes preinstalled on every new Mac that's been sold since 2003. But if you have an older Mac, installing iTunes is easy. To manually install iTunes on to a Mac or manually upgrade the version you have, start at the Apple website.
Download the iTunes installer from the Apple site.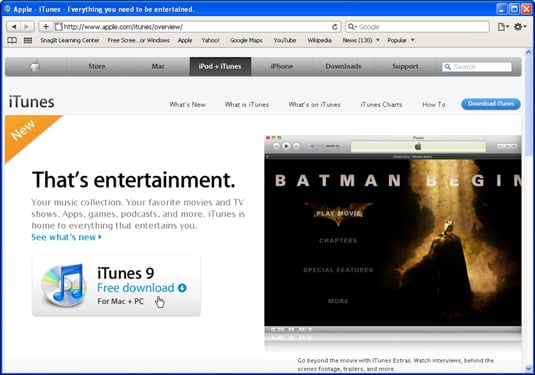 Go to the Apple website, select the Mac OS version you need, and then click the Download button.
Open the iTunes installer drive image.
Double-click the iTunes.dmg file to mount the iTunes installation drive.
Double-click the iTunes.mpkg file to unpack the installer package.
The iTunes.mpkg file is a package containing all the elements of the iTunes software and the installation program. After double-clicking this package file, a dialog appears that asks whether the installer can run a special program to check your computer.
Click Continue to run the special program.
The installer needs to run a program to check your computer and make sure it's capable of running iTunes.
Click Continue, read the Read Me page, and click Continue again.
The installer displays important Read Me information about the latest iTunes features.
Read the License Agreement and click Continue to go to the second page. Click the Agree button and then click Continue again.
You can scroll down to read the agreement. You must choose to accept the agreement by clicking the Agree button, or the installer goes no further.
Select the Mac OS startup drive as the destination volume and then click Continue.
The installer asks for the destination volume (hard drive), which must be a Mac OS X startup drive.
Click Install (or Upgrade).
As an alternative, you can customize your installation by clicking Customize, selecting each package you want to install, and then clicking Install.
Click Close when the installer finishes.
You can now launch iTunes by double-clicking the iTunes application or clicking the iTunes icon on the Dock.
About This Article
This article can be found in the category: