If none of the standard White Balance on the Nikon D3300 settings does the trick and you don't want to fool with fine-tuning them, take advantage of the PRE (Preset Manual) feature. This option enables you to base white balance on a direct measurement of the actual lighting conditions or to match white balance to an existing photo.
You can store only one preset at a time. For example, if you create a preset based on lighting conditions on Monday and then decide on Tuesday to create a different one based on a photo, the light-based preset goes kaput.
Begin with the reference card positioned so that it receives the same lighting you'll use for the photo.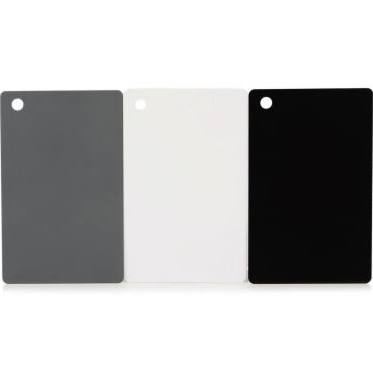 You can buy reference cards made just for this purpose in many camera stores for less than $20.
To use this technique, you need a piece of card stock that's neutral gray or absolute white — not eggshell white, sand white, or any other close-but-not-perfect white.
Set the camera to the P, S, A, or M exposure mode.
If the exposure meter reports that the image will be under- or overexposed at the current exposure settings, make the necessary adjustments now. Otherwise, the camera can't create your preset.
Frame your shot so that the reference card fills the viewfinder.
You must use the viewfinder to take the reference shot; you can't create a preset in Live View mode.
From the Shooting menu, select White Balance, press OK, and select PRE Preset Manual, as shown on the left in this figure.

Scroll to the second page of the menu to reach the PRE option.
Press the Multi Selector right, select Measure (as shown on the right in the figure), and press OK.
The camera asks whether you want to overwrite existing data.
Select Yes and press OK.
You see a message telling you to take your picture. You have about 6 seconds to do so. (The letters PRE flash to let you know the camera is ready to record your white balance reference image.)
Take the reference shot.
Your camera may have a hard time autofocusing because the reference card doesn't contain any contrast. To solve the problem, use manual focusing.
If the camera is successful at recording the white balance data, the letters Gd flash in the viewfinder, and the message "Data Acquired" appears in the Information display.
If the camera can't set the custom white balance, you instead see the message No Gd in the viewfinder, and a message in the Information display urges you to try again. Try adjusting the lighting before doing so.
About This Article
This article is from the book:
This article can be found in the category: