To a great extent, successful downsizing relies on careful planning. Of course, even with the perfect plan, you're likely to encounter unexpected challenges. We know a couple who planned impeccably and still had to downsize three times before they finally found the right fit.

However, a well-laid plan can help you avoid many of the most serious and unpleasant surprises and recover more easily from those that are unavoidable. In this article, we give an overview of the basics of downsizing planning.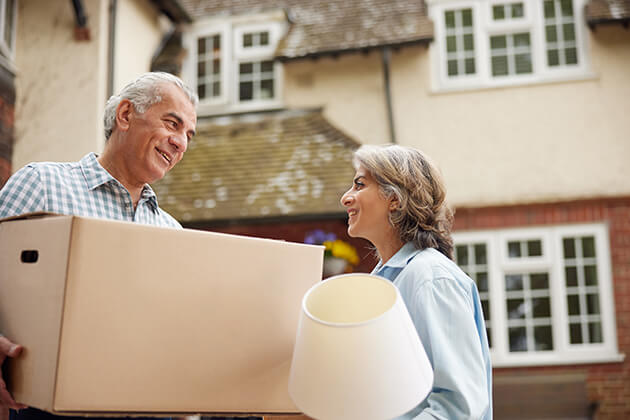 ©Daisy Daisy / Adobe Stock
Downsizing, like any project, begins with the process of setting a goal. In this case, the goal revolves around lifestyle and housing — where and how you're going to live during the next stage of your life. In the following sections, we break down this goal into three factors:
Lifestyle
Location
Housing
Considering different lifestyle options
Lifestyles are difficult to pin down because of the sheer number of options and the fact that different lifestyles often overlap and intersect, but here's a short list to get you thinking about the lifestyle you envision:
Active versus sedentary
Activist (campaigning/working for political or social change)
Agrarian (living off the land)
Aquatic (swimming, fishing, water sports)
Communal versus independent
Conventional versus Bohemian (unconventional, artistic, adventurous)
Entrepreneurial (innovative, business-oriented)
Minimalist (living with very few possessions)
Settled versus nomadic
Traditional (living in small groups, hunting, gathering, herding, farming)
Urban/suburban
Imagine what you'll be doing most days, where you'll be doing it, and with whom. Your vision reflects your lifestyle. If you're hanging out in coffee shops, visiting museums, and dining out with friends and family members, for example, you're probably going to want to live in a more urban setting. If you're tending a garden and feeding chickens, you're leaning toward a more rural/agrarian lifestyle. If you're crisscrossing the country in an RV, you're more nomadic.
Choosing a location
If you're planning a nomadic lifestyle or opting to downsize in place (without moving anywhere), choosing a downsizing destination is moot. Otherwise, location can be a huge factor in your downsizing decision.

Start by choosing a general location, such as a country or a state, and then narrow your choices to more specific areas. Consider the following factors:
Affordability
Climate
Surroundings
Proximity to family and friends
Cultural and social opportunities
Convenience
Safety (crime stats)
Job/career opportunities
Exploring your housing options
Although you can downsize in place (without moving), downsizing often involves moving to a smaller place — usually one that's more affordable and easier to care for. Housing options vary considerably, as reflected in the following list:
Apartment
Assisted living facility
Condominium (condo for short)
Existing home (usually a single-level ranch-style home for downsizers)
Modular home (built off-site and placed on a lot)
Multigenerational home (moving in with your adult children)
New construction (single-family home or condo)
Retirement community (typically for people over 55 or 60)
RV
Skilled nursing facility
Tiny home
Townhouse, duplex, or triplex (two or three homes that share a wall but have separate entrances)
When your goal is affordable housing, consider not only the rent or mortgage payment but also any amenities a housing option offers, such as a pool, hot tub, walking trails, parks, fishing ponds, gym, social activities, and meal plans. These amenities can save you a considerable amount of money on travel, recreation, and entertainment.
Establishing your timeline
When you have a downsizing goal in mind, set a deadline — the date you'd like to be downsized. Are you looking to be downsized next week, two months from now, or more like three years from now? It's never too early to start planning.

After setting a deadline, break down your goal into realistic milestones, so you have a timeline for getting everything done. You may want to set milestones for the following activities:
Meet with a financial advisor to evaluate my finances.
Meet with an attorney to plan my estate.
Find a new place to live.
Sort my belongings.
Organize my photos and documents.
Sell stuff.
Pack.
Sell my home.
Move into my new home.
Your timeline and milestones are unique to you. For example, if you're planning a more nomadic lifestyle, your timeline may include travel plans, such as getting a passport, arranging transportation, and reserving places to stay. If you're downsizing in place, obviously, you don't need to sell your home, find a new home, pack, or move.
Creating to-do lists
Create a to-do list for each milestone to break them down even further. For example, if you're planning a garage or estate sale, you may have the following to-do list:
Set dates and times.
Get change.
Get shopping bags and boxes.
Advertise.
Place street signs.
Organize and arrange items for sale.
Mark prices.
If you're preparing to meet with your financial advisor, your to-do list may be a list of information and documents your financial advisor needs, along with questions and concerns you want to discuss.
Drafting a budget
Regardless of where and how you choose to live, it needs to be affordable, so take the following steps to draft a budget:
Total your monthly income from all sources, such as the following:

Income from work or business
Social security payments
Pensions/annuities
Investment income
Reverse mortgage payments

Total your anticipated monthly expenses, such as the following:

Housing (rent or mortgage, insurance, property taxes)
Utilities (gas, electricity, water, trash, phone, television, internet)
Groceries/meals
Recreation/entertainment (concert tickets, sporting events, vacations, hobbies)
Transportation (vehicle payment, insurance, fuel, maintenance and repair; public transportation; or ride-sharing services such as Uber and Lyft)
Medical (insurance premiums and out-of-pocket costs)
Clothing and shoes
Personal care and miscellaneous personal expenses (toiletries, cosmetics, gym memberships, dietary supplements, home décor and furnishings, gifts, and so on)

Subtract your monthly expenses from your monthly income and hope the result is positive.

If it's negative, you need to trim your expenses and come up with other sources of income.
About This Article
This article is from the book:
This article can be found in the category: