Broccoli, Brussels sprouts, cabbage, and cauliflower thrive in most parts of the country as a spring or fall crop. Start with a rich, fertile soil; keep plants well weeded and watered; and keep pests such as the cabbageworm at bay.
Cole crops are cool-weather crops: They grow and taste best when temperatures are below 80 degrees Fahrenheit, especially when the crops are maturing. Cole crops grow best in raised beds, and be generous with manure and fertilizers.
When spacing cole crops, especially cabbage remember the closer the plants are to one another, the smaller their heads will be.
Cole crops like full sun and well-drained soil that's built into raised beds. Most importantly, though, cole crops really like fertile soil. A week or so before planting your seedlings, work a 3- to 4-inch layer of composted manure into the bed. About 1 month after you transplant your cole crop seedlings, apply about 3 to 4 pounds of an organic fertilizer, such as 5-5-5, to every 100 square feet of garden. Keep the soil moist, and a week or so after transplanting, apply an organic mulch such as hay or straw. These types of mulches keep weeds at bay and keep the soil cool and.
With older cauliflower varieties, such as 'Snow Crown', you have to wrap the leaves over the head and tie them with twine. However, many newer varieties, such as 'Fremont', are self-blanching (as well as disease resistant.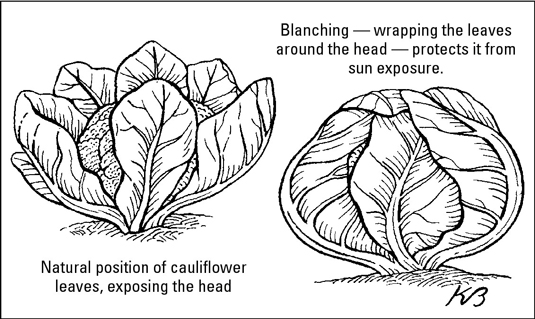 Keep older cauliflower varieties white by wrapping the leaves over the developing heads to prevent exposure to the sun.
Keep the plants well watered, weeded, and mulched. Side-dress them with an organic fertilizer, such as 5-5-5, about one month after you transplant them in the garden.
Cole crops have only a few problems to watch out for:
Black rot: This bacterial disease causes cabbage or cauliflower heads to rot before maturing. To control this problem, rotate crops and remove all old cole crop plant debris.

Cabbage maggot: If plants are stunted, pull one. If you see small, white larvae (maggots) feeding on the roots, you probably have cabbage maggots. The adult fly lays eggs on the stems at the soil line and when the eggs hatch, the larvae tunnel into the soil and start feeding on the roots. To control the cabbage maggot, place a floating row cover over the young seedlings until the weather warms.

Club root: If your plants are stunted, pull one up and check for gnarled and disfigured roots cause by a fungus called club root. To prevent this, rotate crops and raise the soil pH to 7.2 by adding lime.

Imported cabbageworm and cabbage looper: The adult cabbageworm is a white butterfly that lays single white eggs on the undersides of leaves. The eggs hatch, and then green caterpillars crawl out and begin to feed on the leaves. The adult cabbage looper is a gray-brown moth. These pests can quickly destroy your crop. As soon as you see caterpillars or their dark green droppings, spray with Bacillus thuringiensis (Bt).
About This Article
This article is from the book:
This article can be found in the category: