A cold frame is, essentially, a mini-greenhouse. By growing plants in a cold frame, you can harvest cold-tolerant vegetables year-round, even if you live in zone 5 where winter temperatures can dip as low as –20 degrees F. Cold frames are also great for hardening off seedlings, growing cold-tolerant flowering annuals like pansies, and rooting cuttings from your garden.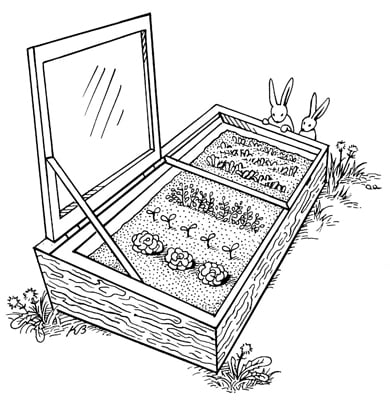 Build a cold frame to extend your growing season.
A cold frame usually consists of a wooden box covered with windowpanes or clear plastic. The frame rests directly over the soil in your yard. You can purchase a premade cold frame for $100 to $200, or you can create your own simple cold frame by following these steps:
Build a 3-foot-x-6-foot box from untreated lumber. Cut the box so that the back is 18 inches high, sloping to a front height of 14 inches.

This sloping angle enables more sun to reach the plants, and it sheds rain and snow as well.

Hinge an old window sash over the top of the cold frame.

If the window sash has no glass, use fiberglass or polyethylene to create a sealed growing environment You can insulate the cold frame by adding rigid foam insulation around the insides of the cold frame and by weather stripping along the top edge. In extreme cold, cover it with heavy burlap or an old blanket. Remember to uncover the coldframe when the sun comes out so the plants can warm up again.

Position the cold frame so that it faces south.

If the south side isn't practical, then use the west, east, or north side in that order of preference. It's best to put a cold frame next to a structure, such as a house, to protect it from cold winds.
Even though the purpose of a cold frame is to trap heat, on sunny days, even in winter, a cold frame can get so hot that it burns the plants. Check your cold frame once a day on sunny days, opening or venting the top slightly to allow hot air to escape. You can even provide some shade by putting a piece of shade cloth over the glass.
About This Article
This article is from the book:
This article can be found in the category: