Starting pitchers are the most dominant factor in any baseball game's outcome, and in sports betting, the oddsmakers rely heavily on their recent performance to set the odds of any game.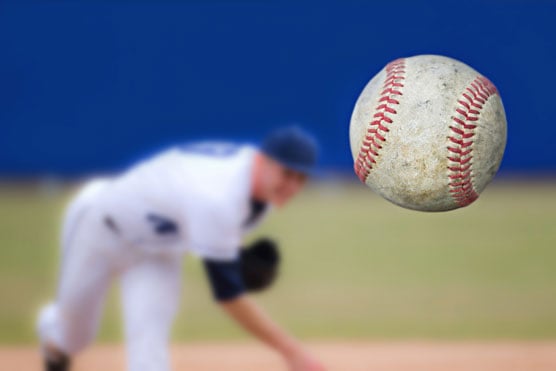 ©Brocreative/Shutterstock.com

Look beyond traditional statistics. Let me say that a different way: Don't just look beyond them; don't look at traditional statistics at all. You're not trying to figure out who's going to win the Cy Young this year. You're looking for pitchers who give their team a better chance at winning than the oddsmakers give them credit for. Wins, losses, and ERA are garbage when it comes to picking winners.

Consider these statistics instead when you look at pitchers:
WHIP: This stat, walks and hits per inning pitched, is becoming more commonplace and very useful. It's like the more familiar ERA in that it's normalized (ERA over 9 innings, WHIP over 1 inning), but it's walks and hits. The downside of WHIP? It doesn't give pitchers credit for being able to escape from jams in the form of reduced runs allowed.
FIP: You can figure out that IP means "per inning pitched," and FIP is known colloquially as Fielding Independent Pitching. This stat normalizes stats based on fielders' range in the infield and outfield.
Strikeouts and walks: In some form, these stats are favored by baseball prognosticators. Some say strikeouts per inning minus walks per nine innings is all you need to know about a pitcher's ability to get outs.
BET on rest
The only time teams get more than a day off is during the All-Star break in the second week of July. Nevertheless, there are opportunities to bet on teams that are more rested than their opponents. Consider this setup:
For regular season MLB games

When the home team has more rest than the visitor AND

The game total is 9 or more

BET over the total.
It's not life changing, but the result is 145–105 over/under in the last decade. That's a 58-percent system for you to study, use, and refine.
Home/away splits
Major League Baseball has one of the smaller home field advantages in all the major sports. But small doesn't mean nonexistent, as there are lots of reasons it helps to play at home:
Home baseball games mean continuity, less travel, and players living at home.
Fielders have a chance to get more familiar with the contours of the foul areas, outfield barriers, and in some cases the weather conditions.
Your hitters and pitchers can get comfortable with the lights, shadows, and the critical site line between home plate and the pitcher's mound.
Over the long run, a team's general manager can build a team to match the ballpark. For stadiums with a shortened right field, you can stack up lefty power hitters. For smaller ballparks in general, you can trade away your fly-ball pitchers for ground-ball pitchers.
And of course, if you're the Houston Astros, you can plant bugs in the opposing team's clubhouse and fine-tune the closed-circuit camera system for stealing signs! (Sorry, Astros fans. That was in the past, right? We can all have a good laugh about it now. Right, Dodgers fans?)

Just so you know the premise is true, the table shows some data from recent seasons. It's a small sample, but looking further back shows roughly the same advantage for the home team.
MLB Home Field Advantage

| | | | |
| --- | --- | --- | --- |
| Regular Season | Home Team Win % | Home Favorite Win % | Home Underdog Win % |
| 2016 | 53% | 59% | 42% |
| 2017 | 54% | 60% | 43% |
| 2018 | 52.7% | 60% | 40% |
| 2019 | 53% | 62% | 38% |
If we knew nothing else about two major league teams facing each other, we would install the home team as a –112 favorite. That moneyline equates to a shade over 53 percent in terms of break-even winning percentage.

Betting on home field advantage is tricky in baseball. Teams that start off playing well at home don't always finish well at home. For example, in comparing home winning percentages of 2019 teams between the first and second halves of the season shows that 4 of the top 5 home field performers were languishing in the middle of the pack before the All-Star Break.
About This Article
This article is from the book:
This article can be found in the category: