Bananas on the grill make wonderful desserts. Because of their natural oils and sweetness, bananas need surprisingly little adornment — this recipe includes a simple caramel sauce.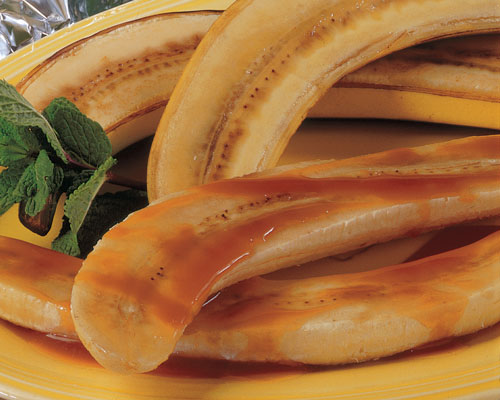 Preparation time: 20 minutes
Grilling time: 8 to 10 minutes
Yield: 4 servings
1 cup granulated sugar
1/3 cup water
1/2 teaspoon lemon juice
2/3 cup heavy cream
4 medium ripe but firm bananas
Prepare a medium fire in a charcoal or gas grill.

In a saucepan over medium-low heat, combine the sugar, water, and lemon juice.

Stir with a wooden spoon for about 3 minutes, until the sugar dissolves.

Increase the heat to medium-high and cook, stirring occasionally, until the mixture reaches an amber color, about 3 to 4 minutes.

The mixture boils rather rapidly during these minutes.

Remove the pan from the heat.

If you want a medium-colored caramel sauce, remove the mixture from the heat while it's still light golden; it continues to cook and darken from the heat. For a dark caramel color, remove when the mixture is medium golden-brown.

Gradually pour in the heavy cream, stirring with a wire whisk.

Be careful; the cream bubbles wildly as you pour it into the mixture.

Return the saucepan to medium-low heat and stir for 2 to 3 minutes or until the mixture is velvety.

After it cools, the sauce can be reheated in a microwave oven or over low heat on top of the stove.

Cut the bananas in half lengthwise without removing the peel

Place on a lightly oiled grid, cut-side up.

Cover and grill for 8 to 10 minutes or until the flesh is warmed and slightly softened.

Spoon or cut away the flesh from the peel.

Place the peeled bananas on four individual plates.

Spoon the hot caramel sauce over the bananas before serving.
About This Article
This article can be found in the category: