If you already know how to make slime, you may be wondering how to make glitter slime. Glitter slime is a sparkly version of the craze that has stores scrambling to keep their shelves stocked with glue. Give these fun glitter slime recipes a try and add some twinkle to your slime.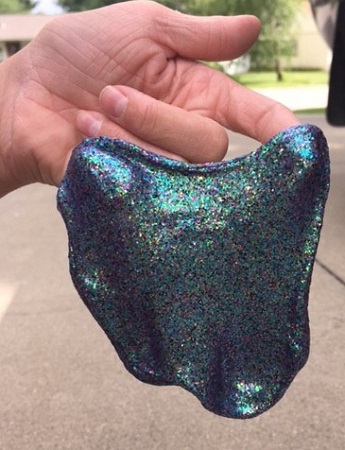 Slime recipes are experiments. Play around with different amounts of ingredients to discover various consistencies.
Each recipe requires a large bowl or mixing container and a spoon.
How to make slime with glitter glue, contact solution, and baking soda
Grab your materials and let's make some slime. You will need:
Glitter glue
Contact solution
Baking soda
Get your bowl ready and heed these steps to make some stretch glitter slime:
Add approximately one cup of glue to your mixing bowl.

Remember, you can adjust this amount to fit your desired amount.

Next, put one teaspoon of baking soda to the glue and mix.
Finally, add small amounts of contact solution to the mix.

Only add contact solution until your slime concoction no longer sticks to the side of your mixing bowl.

Mix ingredients together to achieve that shine in your slime.
Grab it up and have some fun! Don't need that sparkle? You could always go for a tamed version and make slime with glue.
How to make slime with glitter glue and liquid starch
Get your mixing bowl and spoon ready for another experiment! For this one, you will need the following:
Glitter glue
Liquid starch
Water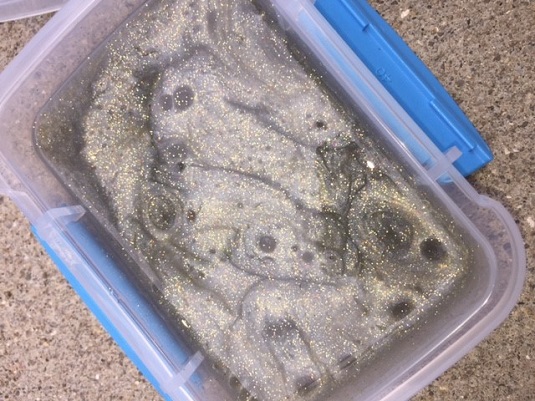 Gather your ingredients and follow these simple steps to make glitter slime:
Add about 1/2 cup water to your mixing bowl.

Remember, you can vary this amount based on how much slime you want to make.

Put the glue in the mixing bowl with the water.

Use approximately the same amount of glue as you did water so that you are adding a ratio of about 1:1.

Pour in the liquid starch.

You want to add about the same amount of liquid starch as you did the other ingredients. Experiment to achieve your desired consistency.

Mix all ingredients together with your spoon for a glamorous glitter slime.
Store slime in an airtight container or plastic bag to preserve it for later play.

Looking for more slime recipes? Check out these cornstarch slime recipes and other slime recipes without borax or glue to continue with the experimenting fun!
About This Article
This article can be found in the category: