Lots of knitting gadgets are available on the market. Some make life a little easier, and others are out-and-out lifesavers. You can get by without buying the gadgets below, but you may find some of them worth the small investment. The following figure shows some popular knitting gadgets.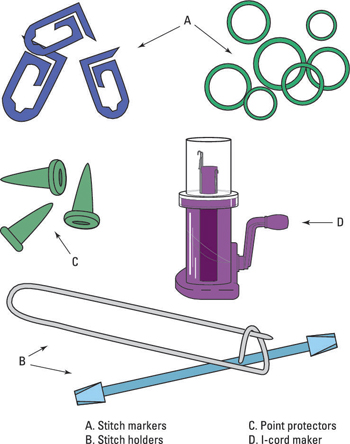 Stitch markers
A stitch marker is a small ring that you slip onto your needle between stitches to alert you to places in your knitting that you need to pay attention to: the beginning of a round, the beginning and end of a repeat, the spot to work an increase or a decrease. When you reach a marker, you slip it from the LH needle to the RH needle and carry on.
You can find several styles of markers on the market. Some are wafer thin, and others are small plastic coils that open up and can be placed on the needle in the middle of a row. Some are made from rubber and won't come whizzing off the end of your needle when you get to them. (Of course, if you don't have any bona fide knitting markers, you can always use a contrasting yarn color tied in a loop or a safety pin.)
Choose a stitch marker that has approximately the same circumference as the needle you're using. Failing to do so may result in an unintentional column of stretched stitches where the stitch marker is placed.
Point protectors
Point protectors are small, pointed rubber caps that fit over the tips of your needles to protect them and prevent your stitches from sliding off when you put down your work. They come in different sizes to fit your needles.
Stitch holders
Stitch holders resemble large safety pins but have a blunt point and no coil so as not to split the yarn; you use them to secure stitches that you'll work up or finish off later. They come in a variety of lengths, from 1-3/4 inches to 8 inches. If you don't have any stitch holders, you can always transfer the stitches to a spare circular or double-pointed needle (put point protectors at each end) or to a contrasting yarn threaded on a tapestry needle. Still, stitch holders are the best tools to hold a lot of stitches.
Magnetic board and strips and magnetic line magnifier
If you plan to knit anything from a chart, a magnetic board with strips is a wonderful item to have. You put your chart on top of the magnetic board and lay the magnetized strip on the row of squares above the row you're working on. After you work the row shown on the chart, you move the strip up, exposing the next row to knit. A magnetic line magnifier is a see-through ruler that works like the magnetic board and strips but also magnifies the line you're working on. You put the magnifier on top of the row you're working on.
Of course, you can use sticky notes for marking your row on a chart. The downside is that the notes often are shorter than the width of your chart and more vulnerable to cats skittering across the table or someone looking for paper to use for something (seemingly) more important than keeping your place on the knitting chart. Another alternative is painter's tape, which has very low tack and doesn't stick to the pattern.
Pompom maker
What a difference pompom makers make! This small and inexpensive gadget is one of those simple but brilliant ideas that turn a tedious job with questionable results into something quick with spectacular results. (It's so much fun to use that you may be tempted to add pompoms to everything.)
Tassel and fringe maker
Everything said about the pompom maker also applies to the tassel and fringe maker. It's a small adjustable plastic frame that allows you to wrap any number of threads around it before cutting the wraps for fringe or tassels. No more hunting around for the book or piece of cardboard just the right size for wrapping.
Graph paper
Graph paper is very useful for diagramming patterns and charting designs and motifs. Figuring on 5 or 8 squares to the inch works fine for sweater plotting and texture patterns. If you plan to design your own color patterns or motifs, look in your local yarn shop for knitter's graph paper, which has flattened-out squares (5 squares across and 7 squares up to the inch) to reflect the grid of knitted fabric — more rows per inch than stitches. You also can find knitter's graph paper online.
I-cord maker
If you find yourself making lots of I-cords for bag handles or just for decoration, a hand-cranked I-cord maker will more than pay for itself in time saved. Available at many craft and yarn stores, these small machines make quick work of I-cord.
Notebook or folder
You'll find many good reasons to keep a notebook or folder among your knitting supplies. It's a good place to keep a knitting diary, recording your projects and saving labels from the yarn you're using. Never throw away the label that comes with your yarn. You may need it to match the color and/or dye lot numbers if you run out of yarn on a project. Labels are also handy records of the yardage used to knit a project (especially a sweater) just in case you love it so much that you want to knit another just like it. You can also write down the needle size you ended up using and the gauge you got on a specific project. In addition, you can jot down ideas, technical questions to ask your knitting mentor, patterns you want to swatch, and so on.
About This Article
This article is from the book:
This article can be found in the category: