People have experimented quite a bit with the art of crochet over the years. They've taken the basic stitches and found unique ways of manipulating them to create variations on the original art form. They've also combined the use of the crochet hook with other tools to produce totally new techniques. They've even experimented with a variety of materials to broaden the scope of the craft.

Here are eight of the many possibilities out there in the world of crochet. Each of these variations demonstrates the versatility of a craft that has been evolving for centuries and will surely continue to grow and change as long as people have the drive to create.
Irish Crochet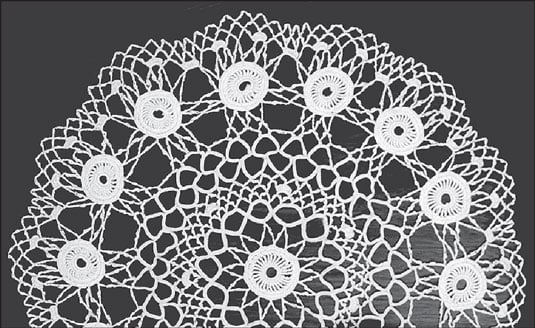 Developed in the mid-19th century, Irish crochet (inspired by the popular Venetian laces of the time) is a stitch technique that combines floral and leaf motifs arranged on a board and then joined together with a network of mesh. It's usually worked in fine cottons to produce the traditional delicate look, and often the pieces are padded by working over a cotton strand called a foundation cord.
You can use Irish crochet to produce beautiful home décor items such as pillow toppers, bedspreads, curtains, and tablecloths — basically anything you'd normally crochet with cotton. Though not often worked these days, you can still find examples of gorgeous blouses, dresses, collars, and evening gowns worked in Irish crochet.
Free-Form Crochet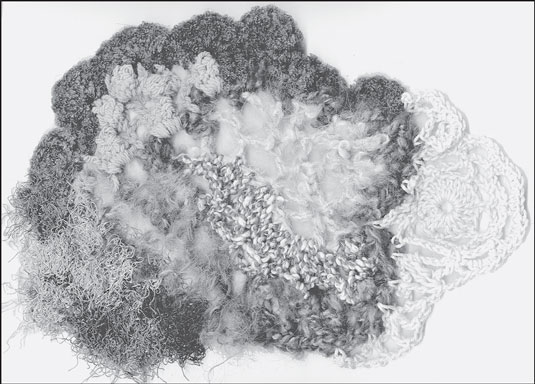 Free-form crochet, also known as scrumbling, is kind of like coloring outside the lines. Whereas most crochet patterns have you work a regular, symmetrical pattern in rows of uniform stitches or in neat, concentric circles, free-form crochet opens the door to a more random and artistic approach to the craft. Although patterns can be written for such pieces, the beauty of this technique is that you can use your own imagination and instincts to produce truly unique creations.
This stitch technique supports irregular stitch heights, curves, and zigzags; a mixture of highly textured areas with lightly textured ones; a combination of rounds with rows; and randomly shaped areas to create a patchwork look like that of the sample shown. Combining different colors and textures of yarns helps enhance the effect of free-form crochet.
Free-form crochet lends itself to unique fashions and accessories, abstract and pictorial wall hangings, and three-dimensional sculptures.
Surface Crochet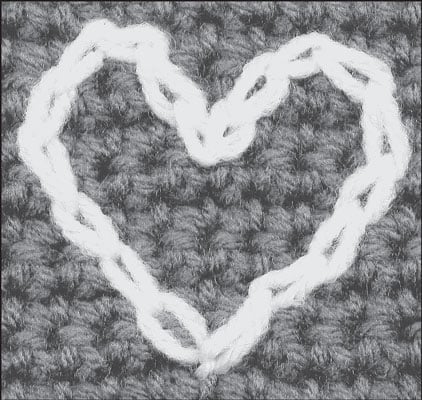 Surface crochet, which resembles embroidery, is crocheting (generally with yarn) onto a crocheted fabric background. You work surface crochet just like a slip stitch over the surface of the background. You can surface crochet in a straight line to add stripes to an otherwise solid piece or create pictures on your background. It's frequently used to turn a horizontally striped piece into a plaid by adding the vertical lines afterward.
Tapestry Crochet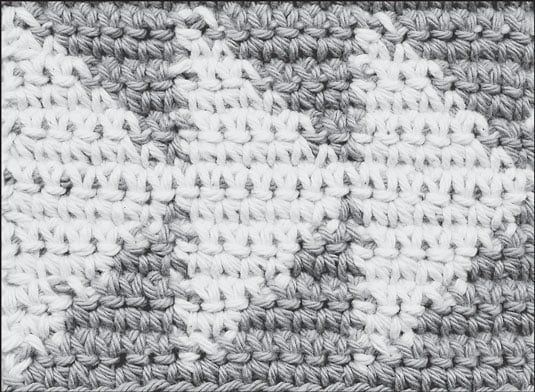 Popular in Africa and South America, tapestry crochet is a technique that's gaining momentum throughout the crochet community. It's generally worked in single crochet in charted, repetitive patterns that resemble woven tapestries. You can work tapestry crochet in rows to produce flat pieces or in rounds to produce three-dimensional objects.
What makes tapestry crochet different from standard single crochet is the practice of working in more than one color at a time, carrying the unused color under the current color, and working your stitches very tightly. You usually work tapestry crochet with a stiffer material, such as a sport-weight cotton, to produce the characteristic of a stiff tapestry.
This stitch technique is ideal for producing baskets, handbags, wall hangings, place mats, and hats. To make beautiful garments (such as scarves, shawls, and even sweaters) with tapestry crochet, work your stitches more loosely and with a soft yarn.
Broomstick Lace
Broomstick lace is a crochet technique that uses a large dowel or needle to form clusters of loops within a fabric. The loops form circles of yarn that produce a unique texture that's suitable for afghans, shawls, and sweaters. This technique can also work with fine cotton to produce unusual lacy home décor items.
Hairpin Lace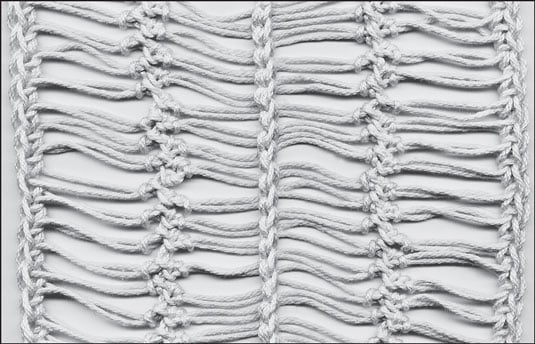 Hairpin lace is worked on a hairpin lace loom to produce long strips of lacy loops. The technique was originally worked on actual hairpins, which are much smaller, but has since evolved into a larger version that's good for making lacy shawls and afghans.
Hairpin lace looms are adjustable to different widths, so you can vary the laciness of your strips. You can also vary how the loops are joined together, allowing for a myriad of designs.
Double-Ended Crochet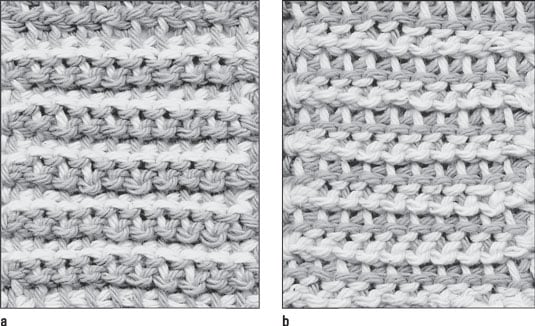 Double-ended crochet (also known as cro-hooking) is similar to working Tunisian crochet. The difference between the two techniques is the hook. Double-ended crochet uses a long, double-ended hook that allows you to work stitches on or off from either end.
This technique is usually used with two alternating colors, working loops onto the hook with one color and then turning the work around and working the stitches off with the second color. Double-ended crochet produces a fabric that's reversible because it has a different color pattern on either side. The fabric is softer and more elastic than the basic Tunisian stitch, making it ideal for afghans, scarves, and stoles.
Bead Crochet

Bead crochet has grown in popularity, perhaps thanks to the ever-expanding selection of beads available in craft stores. You can add beads to crochet in two basic ways:
Sew them on after you finish crocheting.
Crochet them right into the fabric.
Make sure that the weight of the yarn is compatible with the weight of the beads. If you're using a lightweight yarn, don't use heavy, oversized beads. The weight of the beads can cause the stitches to droop and pull, creating an unsightly mess. On the flip side, if you're working with a heavier-weight yarn, choose beads that won't get lost in the stitches.
About This Article
This article is from the book:
This article can be found in the category: