When hand painting yarn and fiber, at times you will want colors to remain clear and distinct and other times you will want more subtle color transitions. Sometimes dyes run together where two colors meet. This is called a color bleed, and it can be an attractive design feature in the yarn.
If you don't want your colors to run, there are several ways to make them stay put. The following suggestions help you achieve the results you want.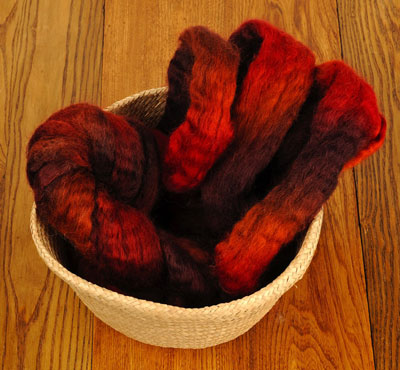 Maintain distinct colors in your fibers
Several products can be used to thicken dyes. Dye thickener stops colors from bleeding. They add an extra step and expense to the process, and you must wash the fibers thoroughly after dyeing to remove all traces of the thickener.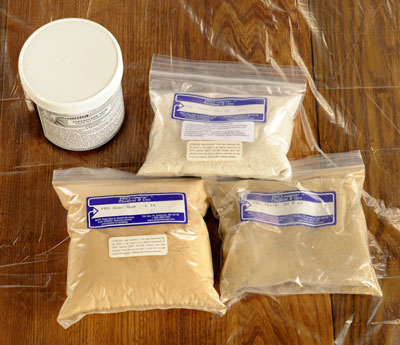 Guar gum and sodium alginate: These thickeners that can be added to dye solutions. The more thickener you add, the less the color will bleed.

Guar gum and sodium alginate come in powdered form. They must be thoroughly mixed with water before use and work best if made at least one day in advance. Guar gum works with acid dyes and sodium alginate is used with fiber-reactive dyes.

Superclear: Sold by Dharma Trading Company, Superclear is a ready-made thickening product that is colorless.
A resist is a material used to mask areas of yarn or fiber that you want to preserve as undyed. When dyeing yarn or roving, you can use the type of resist tape sold for tie-dyeing fabric. Tightly bind and tie the sections of the roving or yarn that are to remain undyed and then apply color to the rest of the skein or hank. The resist tape can remain on the fiber right through the steaming process.
Working on dripping-wet yarn increases the likelihood that the colors will run together and become muddy. Use the spin cycle on your washing machine to remove excess water from the fiber after the presoak. Let the fiber sit for 5 minutes before applying colors. The fiber will still be damp, but when you paint on the color (especially if you use a foam brush), the colors will stay put.
Adding citric acid crystals to the dye solution increases acidity and causes the dye to strike as soon as it makes contact with the fiber. For some of the processes described in this chapter, you will add acid directly to the dyes.
Blend colors when hand-painting fiber or yarn
When adjacent colors interact in hand-painted fiber, the results can be surprisingly lovely, since new colors emerge wherever two colors interact. Here are some ways to encourage that effect: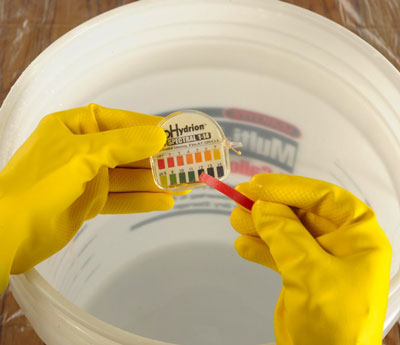 Make sure the two adjacent colors form an appealing color when they blend. If red and green overlap to make brown, for example, is that really what you want?

Do not remove quite as much water from the skeins after the soak. The water will allow the colors to spread a bit more.

Paint adjacent colors close together or overlap adjacent colors.

Keep a spray bottle of water on your worktable. Lightly spray the fiber to encourage colors to bleed.
When hand-painting yarn, you must consider the gauge of the yarn, its intended use, and the desired color effect. These factors may influence your color choices and the method in which you apply them. Whenever possible, make a sample skein and knit a test swatch in the gauge of your final project to make sure you're satisfied with how the color pattern translates into the stitch pattern and gauge.
If you want to create a pair of socks, a scarf, or a sweater from yarn that has horizontal color stripes in a repeating pattern, you will need to dye your yarn with color repeats of sufficient length to knit at least two rows of the pattern. For a pair of socks made from fingering-weight yarn, that means painting bands of color that are at least 60 inches (23.6cm) long. Painting self-striping yarn for a sweater would be very tricky, since the yardage needed to knit two rows would be considerably more.
About This Article
This article can be found in the category: