With the changing nature of work today, managers have to adapt to new circumstances for managing employees. How can managers keep up with an employee's performance when that employee may not even have physical contact with the manager for weeks or months at a time? The following discussion can help.
Increase your interaction
Today's managers have to work harder to manage distant employees. If you value strong working relationships and clear communication (and you should), you need to reach out to your virtual employees to be sure adequate communication is taking place.

Some of the answers to managing virtual employees effectively lie in a return to the following basics of human interaction:
Make time for people. Nothing beats face time when it comes to building trusting relationships. Managing is a people job — if you're a manager, you need to take time for people. It's part of the job. And you need to do so not only when taking time is convenient, but also whenever employees are available and need to meet.
Increase communication as you increase distance. The greater the distance from one's manager, the greater the effort both parties have to make to keep in touch. And although some employees want to be as autonomous as possible and want to minimize their day-to-day contact with you, other employees quickly feel neglected or ignored if you don't make a routine effort to communicate with them. Increase communication by sending regular updates and scheduling meetings and visits more frequently. Also, encourage your employees to contact you (communication is a two-way street, after all), and go out of your way to provide the same types of communication meetings with each work shift or to arrange meetings that overlap work shifts or duplicate awards for each facility.
Use technology. Don't let technology use you. Use technology as a more effective way to communicate with your employees, not just to distribute data. Promote the exchange of information and encourage questions. You can set up communication channels on your company intranet or within a password-protected area of your company's website. Other platforms you can use include: Slack, Zoom, and Microsoft Teams.
Provide long-distance recognition
Every employee needs to be recognized by a manager for a job well done. Just because an employee is out of sight doesn't mean that person should be out of mind.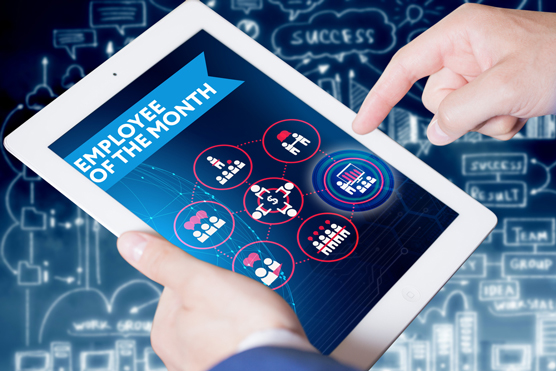 © Den Rise / Shutterstock.com
Consider some steps you can take to make sure your virtual employees feel just as appreciated as your regular employees:
Ask virtual team members to keep the leader and other team members apprised of their accomplishments, because they can't be as readily seen.
Keep a recognition log of remote team members so that they don't fall into the cracks — a particularly important consideration for mixed teams (with both traditional and virtual team members).
Make sure that virtual team members are appropriately included in recognition programs by ensuring that remote employees are kept fully in the loop.
Provide some "treat" for virtual team members who can't join in face-to-face socials and celebrations.
Utilize recognition activities and items that are appropriate for a mobile workforce, such as thank-you cards and gift certificates.
Tap into the recognition capabilities of email, such as virtual flowers or greeting cards.
Involve executives in recognition activities by way of conference calls, videoconferencing, or periodic in-person awards programs.
Make a point of employing a variety of team recognition items (such as coffee mugs, T-shirts, jackets, and so forth) when rewarding members of virtual teams. Such items help remind them of their team membership.
Use the Internet
Managing employees is a challenge when you've got them right there in front of you. However, when your employees are across town — or on the other side of the globe, nine time zones away — this challenge is multiplied many times. The good news is that, just as the Internet has brought the world closer together in many different ways, the Internet can help bring your far-flung employee team closer together while making your job of managing easier.

These tools can do just that:
Teleconferencing and videoconferencing: You can find a number of Internet-enabled teleconferencing websites, including Zoom and com. Some of these sites provide service for free, but others require you to pay. All offer a variety of different features, including instant conference calls, scheduled calls, recording, conversation transcription, and more. If you want to conduct videoconferences, many of the teleconferencing companies' sites can also do that. Skype allows you to set up videoconferences for free.
Virtual meetings: If you've got a group larger than just a few people and you want to integrate your computer into the proceedings (to display documents, spreadsheets, graphics, and so forth), consider checking out some of the providers of virtual meeting services. Some of the most popular are Microsoft Teams and GoToMeeting. Prices for these services vary, but most offer a free trial period, so be sure to try before you buy.
Project collaboration sites: One of the most difficult challenges in managing virtual employees arises when you're working together on a project. Usually team members need to swap a lot of documents and files; plus, occasional get-togethers are necessary to ensure that everyone is working from the same page. Project collaboration sites such as Slack, Basecamp, and Easy Projects make the job much easier and more effective. Most offer a variety of online project-collaboration tools such as project milestone charts, project updates and check-ins, shared task lists, virtual brainstorm sessions, and much more. Again, prices and exact services vary, so be sure the system meets your needs before you make a long-term commitment.
Of course, you can still use your telephone, as well as email or text messages, to conduct the majority of your interactions with your virtual employees. And don't forget to schedule an occasional in-person team meeting where everyone has an opportunity to spend some time together and put faces behind the voices. However, when you need to manage a project or pull together a meeting with more than an employee or two, these Internet-based tools give you a distinct advantage.
About This Article
This article is from the book:
This article can be found in the category: