Building meaningful relationships starts with you. When remote employees join your team, what you do in the first 48 hours to welcome them to the group sets the standard for how the rest of the team will connect.

Valuing the unique skills, abilities, and backgrounds of all your team members helps them feel appreciated and cared for. Openly encouraging dialogue, debate, and feedback provides the opportunity for contribution.

All of these examples can help you to build a culture of connection and create a team of high-performing, happy remote workers.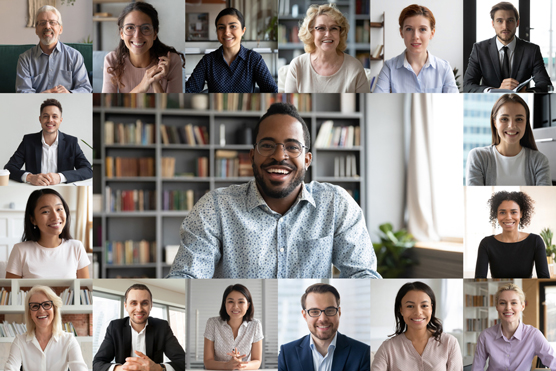 © fizkes / Shutterstock.com
How to be a leader your virtual team wants to follow
Chances are, you've had both good bosses and bad bosses, and you can probably easily explain the differences in approach, credibility, and style. Why not make the decision to be a leader that people choose to follow?
Here are a few tips to help you:
Don't ask anyone to do anything that you wouldn't do yourself. Don't reinforce common hierarchy standards. If you want your team members to believe that you have their backs and aren't above any type of work, prove it by stepping in when needed.
Lead in alignment with a strong sense of purpose and values. Make sure your team knows what you stand for.
Be vulnerable and courageous. It's okay to acknowledge failure. Show your team that learning from mistakes is an opportunity to grow.
Share information with your virtual team early and often. When you have new information, share it. Be as transparent as possible.
Create space for innovative solutions to be considered. Be open to trying something that hasn't been done before. Give people license to present new ways of doing things. Encourage creative thinking by using brainstorming in meetings.
Be a skillful listener. Practice effective listening. Acknowledge what is being said by repeating back in your own words what you believe was the meaning behind the message.
Practice self-care. Model healthy behaviors when working from home. Exercise, don't text or email after 6 p.m., and check out when you take vacation.
Get to know your virtual team members
The challenge for the virtual leader is to transcend the boundaries of space and develop a supportive, collaborative connection with your team. Many of the best ways to establish a personal connection are also fun and sometimes even a little silly.

Humor and laughter put people at ease and help you open up, so don't brush aside these ideas immediately. Instead, figure out which ones you can try with your own team over the next few weeks:
My Window: Ask team members to take a picture of what's outside their window and upload it ahead of your virtual meeting. Team members share a story about what's outside their window.
Highs and Lows: Have each team member share a high and a low from the past week.
TableTopics: Invest in a card deck of TableTopics (tabletopics.com) and ask questions that allow people to share their insights and opinions on different topics.
Two Truths and a Lie: Use this activity to get people to share three things that the team wouldn't know about them. Two of the facts are true and one is a lie. Your team members have to guess the lie. This activity always leads to some amazing discoveries about your team members.
Our Global Team Map: Have a map of the world and a virtual pin in each location you have an employee. Ask your team members to share something unique about their country, city, or hometown.
A Day in the Life: If your team is coming together for the first time, have your team members put together a collage about their lives that includes their families or friends, hobbies, pets, favorite movies, favorite books, and so on.
Dine Together: This is another great idea to get to know more about someone's heritage or ethnicity. Have each team member share a favorite family dinner recipe. Once a quarter, send a grocery list and gift card to each team member to buy the ingredients and cook the recipe. Have a virtual dinner together while your team member shares information and interesting facts about her family recipe.
Reach out and build rapport with your virtual team
A key reason to take the time to connect with your virtual team members is to build rapport. Building a sense of camaraderie on your virtual team or increasing accountability and engagement is impossible if you don't have a plan for reaching out and staying connected.

Effective virtual team leaders create time in their schedules for building relationships and rapport. They make a conscious effort every day to build more effective relationships. If you want to know how you're doing, rate yourself on how well can you answer the following questions:
How effectively are your team members meeting expected results and performance measures?
What performance will be needed from them in three to six months given their role and where the business is headed? Are they prepared?
What are their aspirations at work this year and in the future?
What makes their work (and their objectives) meaningful and satisfying to them?
Why are they here? What motivates them? What stresses them?
How do they like to be recognized, acknowledged, and rewarded for a job well done?
What limits them from delivering their best? What are their derailers?
What support, tools, resources, skills, or empowerment do they need from you as their manager to be more effective?
Adopt a reach-out strategy with your team to keep your finger on the pulse of what's happening with each team member and make sure they're getting the support and feedback they need to achieve their very best. Don't try to adhere to a rigid schedule; instead, reach out as needed in 10-, 20-, or 30-minute sessions.

The following table shows reach-out recommendations.
Reach-Out Recommendations
Reach-Out Timing
Purpose
How Often
Questions
30 minutes
Talent development/career advancement discussion. This reach-out needs an analysis conversation with a future focus.
Quarterly
Where are you? Where would you like to be?

What do you love to do? When are you in the zone? How does this fit with our strategy?

What is needed in the department and from your role to move the needle forward? What's needed now? What's needed in the next 18 months?

What skills or experiences would you like to develop to help you grow in this role or in the future?

What's your plan for development and how can I support you in getting there?

Based on our conversation, what will you start/stop/continue doing as a result?

20 minutes
Tactical conversation with a current focus used to assess and support what tasks and projects they're involved in that are making progress toward their goals and development plans.
Monthly
What opportunities exist right now on this project or task to move the needle?

What one or two things are you focusing on to grow?

What opportunities are available to develop the skills we discussed?

How can I best support you?

Based on our conversation, what will you start/stop/continue as a result?

10 minutes or less
Feedback conversation with a just-in-time focus used to provide immediate feedback, coaching, and support.
Weekly
Can I sit in on this call with you?

How about we brainstorm your approach with this customer/vendor/team member?

Would you like to role-play how you'll handle this conversation?

Tell me how it went? What was challenging? How did you handle it?

What feedback do you need from me?

Based on our conversation, what will you start/stop/continue as a result?
About This Article
This article is from the book:
This article can be found in the category: