Because in web marketing a session is defined as any one visit to your site, sessions are a good general measure of site use and load. Think of sessions as foot traffic in a traditional retail store: The same people might go in and out of the store, but that doesn't matter. If the store's full, it's full.
In your traffic-reporting tool, you'll find sessions either under a section called Sessions (surprise!) or Visits.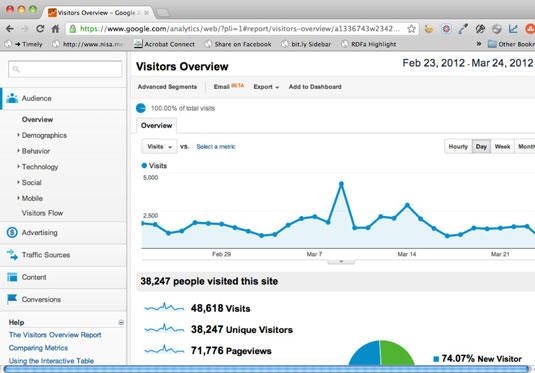 Don't use sessions to measure the following:
Audience size: If someone visits, leaves, and then returns to your site many times, one person can generate multiple sessions in any time period. So, sessions can be far higher than unique visits (a more accurate measure of audience).

Ad performance: Advertising — whether pay-per-click ads, e-mail, banners, or other creative elements — is created to bring you new customers. Because sessions don't differentiate between new and repeat visitors, they're not a good measure of ad performance. Counting unique visitors is far better.
Do use sessions to see
Site activity in the broadest possible terms: More sessions mean more traffic, which may also mean a higher load on your web server. Sessions are a good way to judge how much strain your site is under.

Conversion rate based on foot traffic to your site: If you want to know how many visits it takes to get a sale or lead, you need to know how many sessions you get in a given time period.

General interest in your site: Even though one person can generate many sessions, sessions are still a great way to see how much interest you're generating. At a high level, whether five or ten people generated those 100 sessions isn't critical. The average level of interest remains the same.

Peak times of the day, month, or year: Many businesses are cyclical by day or season. Peaks or lows in sessions might fit a pattern that tells you your customers are more active at a specific time of day or year. Often the session graph of one day will show a common cycle.
Among analytics experts, sessions can sometimes get a bad reputation. Folks will skip them and move on to unique visitors, which appear to provide better data. However, sessions do provide valuable information.
About This Article
This article is from the book:
This article can be found in the category: