Bluetooth technology and the wide array of smartphone apps make customizing strategies to aid in improving day-to-day functions with hearing loss a whole lot easier.
Working with Bluetooth and hearing aids
Bluetooth is amazing wireless connection technology. It is a short-range wireless connection platform that allows data transfer or connections between two or more electronic devices over ultra-high frequency radio waves that don't interfere with other signals.

Thousands of companies across the globe, including hearing aid manufacturers, have agreed on Bluetooth as the standard in wireless connection and have teamed up to form a special interest group that manages the technology, fosters Bluetooth tech advances, and maintains high security standards.

Bluetooth allows hearing aids to directly connect to other devices, including smartphones and tablets, to stream clear audio such as music or phone calls. Many hearing aid companies now offer smartphone apps that connect to hearing aids via Bluetooth and allow the user to control hearing aid settings such as volume and programs or check on the hearing aid battery life.

Most hearing aids connect to smartphones by making sure Bluetooth is activated on the smartphone and then turning the hearing aid off and back on. This prompts the two devices to pair. After the first connection, the devices will remember one another and automatically pair. Consult your hearing aid user manual, contact a tech savvy friend, or ask your hearing care professional when in doubt.

Some hearing aids require a streamer (see "Streaming all your devices" below) to connect to other devices via Bluetooth. This is usually worn around the neck or kept in a pocket. But this is becoming increasingly rare as modern technology allows for a direct connection. Check product labels or speak with a hearing professional for how hearing aids connect to Bluetooth if you want to avoid using an extra device.
Navigating smartphone apps
You can find many, many smartphone apps for hearing loss — some free, some not — and it can be difficult to distinguish the good from the not-so-good. There are two main categories specific to enhancing your hearing:
Apps to amplify sounds in your environment just like a handheld amplifier
Apps to customize sound you listen to through your smartphone, such as when you take calls or stream music, so that it is tailored to your hearing
But how do you know whether an app is going to be reliable? Here are some tips:
Look for apps that are popular and have lots of downloads.
Read reviews and comments by users.
Download apps only from official app stores.
Look at apps that have a history of regularly updating.
Pay attention to permissions the app asks for on your phone; predatory apps may ask for permission to access unnecessary information (like an app to amplify sound requesting access to your photos or contacts).
Hearing aid accessories
Hearing aid accessories can be the difference between doing okay and thriving with hearing aids. Many companies offer a lineup of complementary accessories that can boost your experience with hearing aids and improve listening in certain situations.

Every company has a different specific name for these products, but there are four common types: a remote control, a remote microphone, a TV connector, and a streamer.
Using a remote control
A remote control acts as a handheld operations center for your hearing aids. It allows you to discretely control your hearing aids without needing to locate and press any buttons on the hearing aids themselves. This can be especially useful for adults with stiff, numb, or arthritic fingers. With a remote control you can:
Adjust the volume or mute the hearing aids.
Change the programs to match the situation you're in.
Manage connections to other streaming devices.
Trying out a remote microphone
A remote microphone is a stand-alone or portable microphone that transmits a direct signal to hearing aids from a distance. Remote microphones excel in helping with hearing in difficult listening environments from noise or overcoming distance issues.

Hearing aids can mute or dampen any other sounds around you while focusing only on the remote microphone to substantially improve clarity.

Remote microphones are one of our favorite accessories and something we recommend to almost every hearing aid user who has trouble with hearing aids in noisy situations. We compare the remote microphone for those with extra trouble with speech in noise to using snow tires for driving in cold weather areas: It's a must-have accessory!

There are two main styles of remote microphone: one-on-one remote mic and group setting remote mic.
One-on-one remote mic
The most common style is a portable personal microphone for focused conversation when you're only interested in hearing one specific person speak at a time. The person speaking can hold it, wear it around their neck, or clip it to their shirt or jacket lapel. The sound from the microphone is channeled directly into your hearing aid.

Let's go through some examples of when the remote microphone comes in handy:
If you are at a noisy restaurant for dinner, you can have the person you're dining with wear the remote microphone so that you receive a more direct signal of their voice with less background noise.
In some social settings with lots of noise, like a large gathering or at a bar, we tend to move from conversation to conversation. You can bring the one-on-one remote microphone and either hold it yourself near the person (see the figure below) or ask the person you're speaking with to hold to it for a boosted signal.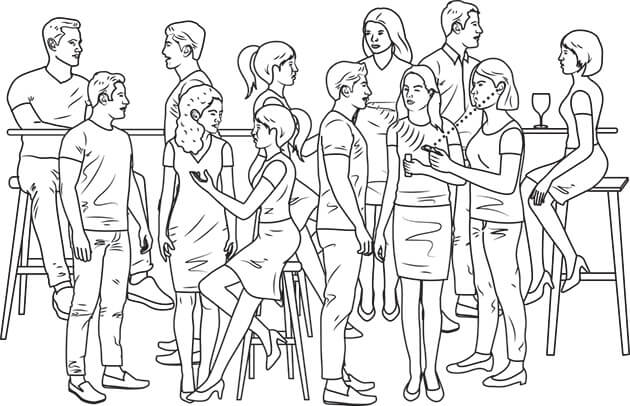 ©John Wiley & Sons, Inc.
A portable remote microphone being held while at a party
Lectures can be difficult if you're forced to sit far away from the speaker. Even if the venue has a sound system, it can still be difficult to understand the speaker depending on the acoustics as well as the quality and placement of the speakers. You can either place the remote microphone on the podium or request the speaker wear it to give you a direct signal (see the figure below). The range on remote microphones varies from roughly 30 to 90 feet depending on the manufacturer.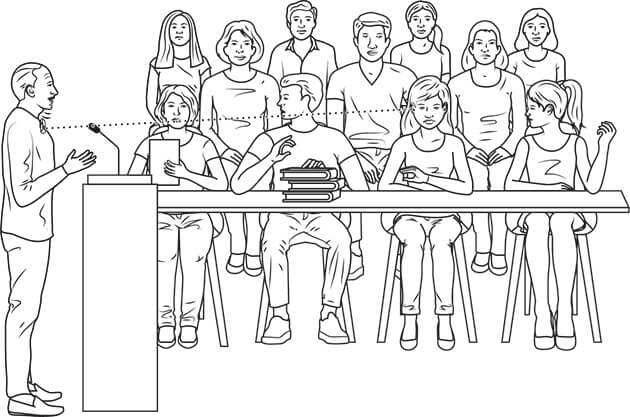 ©John Wiley & Sons, Inc.
A one-on-one remote microphone in action during a lecture
If you're in a small group setting with the one-on-one remote mic, like a noisy restaurant with a group of three, you can try placing the microphone on the table between your dining companions or ask them to pass it back and forth as needed. It's an extra step but will make for a smoother and more enjoyable conversation for everyone.
Group setting remote mic
A newer version of the remote microphone is a table remote microphone that is specially designed for group conversations. This product sits on a table and uses a combination of advanced signal processing and special microphones called beamformers to identify and focus on anyone speaking at the table and transmit that signal directly to your hearing aids.

The table remote microphone is a great option when in a restaurant or at home with multiple people or for use at work meetings around a conference table (see the figure below).

At the publication of this book, this is a newer product and is only available through a few hearing aid manufacturers, but the initial popularity among patients suggests it's going to quickly become a widely offered product.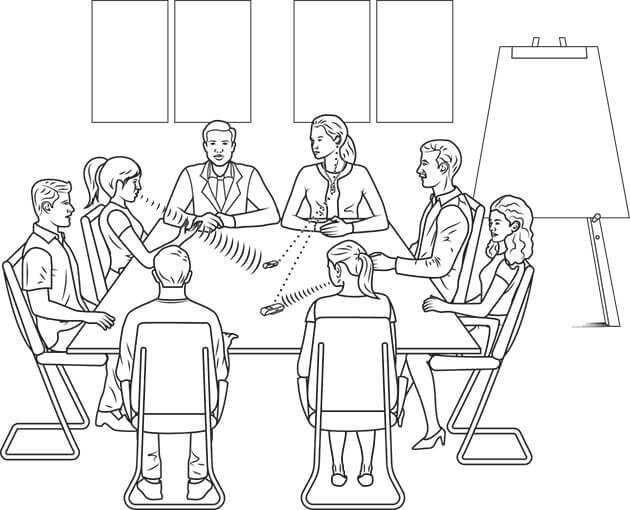 ©John Wiley & Sons, Inc.
A table remote microphone during a meeting
Connecting to the TV
The TV connector serves a very specific role of transmitting the audio signal from any home audio device, namely TVs and stereos, directly to your hearing aids (see the figure below). Simply plug the TV connector into the audio port on your TV or stereo to connect to your hearing aids.

This can make listening to TV much more enjoyable with a direct and sometimes clearer signal compared to using your hearing aids alone. Many companies now offer the capability for the TV connector to stream to multiple sets of hearing aids if you are watching TV with a friend or family member!
Streaming all your devices
Technology is rapidly evolving, and some hearing aids can directly connect to smartphones and other accessories mentioned in this section. However, some hearing aids will require a streamer (see the figure below) to act as an intermediary transmitter to allow hearing aids to connect to other products.

The streamer is usually worn on a lanyard around a hearing aid user's neck or kept in their pocket. For some hearing aid manufacturers, the streamer and remote control are combined into a single product to make your life easier. Make sure you do a little research first to find out if your hearing aids require a streamer to connect to accessories and your smartphone.

When purchasing hearing aid accessories, make sure they are compatible with your hearing aids. At the time of this book, most hearing aids are only compatible with accessories made by the same manufacturer. Even within a single manufacturer, new generation technology does not always work with older technology. You can always ask your hearing care professional to help you navigate the accessories market.
About This Article
This article is from the book:
This article can be found in the category: